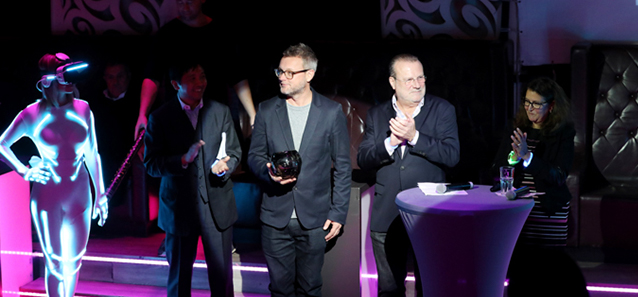 Celebrating 20 Years of Infinite Possibilities with the SentryGlas® Innovation Award
First introduced in 1998 as SentryGlas® Plus (SGP) based on the ionoplast technology, this film is widely used in laminated glass façades, skylights, canopies, glass railings and glass walkways. Exceptionally robust and with unparalleled clarity, the film exhibits the lowest yellowness index of any laminated glass interlayer.
It is 100 times stiffer and five times more tear resistant than PVB and, in addition, exhibits the highest post-breakage strength over a broad range of temperatures and loads. In 1992, the SentryGlas® team began testing glazing systems to meet impact and pressure cycling requirements developed for wind-borne debris protection in Florida. Long-term outdoor exposure of SentryGlas® laminates in South Florida validates the outstanding durability of this interlayer. In addition, recent salt-spray/fog testing conducted by an independent laboratory in Singapore reported no edge defects after 3,000 hours of exposure.
Originally designed to address the immediate needs of the hurricane market, SentryGlas® is now considered to be the gold standard for structural applications. In addition to SentryGlas®, the Trosifol® PVB portfolio offers architects a wide range of clear and tinted interlayer options, stiff PVB, and acoustical PVB interlayer to fit a variety of architectural requirements.
"In the 20 years since the launch of SentryGlas® it is amazing to see the unique ways that glass is being incorporated into buildings and structures," says Global Marketing Manager, Christoph Troska. "High performance structural interlayers give designers much more freedom to exploit the aesthetics of glazed features."
Trosifol™ celebrated the anniversary with an international design competition "World of Innovative Glass Lamination Solutions" for projects with laminated or laminated safety glass. Architects, engineers, façade consultants and glass processors were invited to submit their projects in three categories: Engineering, Resilience and Aesthetics. Following assessment by an international expert jury, the winners were honored during the Trosifol™ Customer Evening at glasstec 2018 in Düsseldorf.
Winners honored at glasstec 2018 in Düsseldorf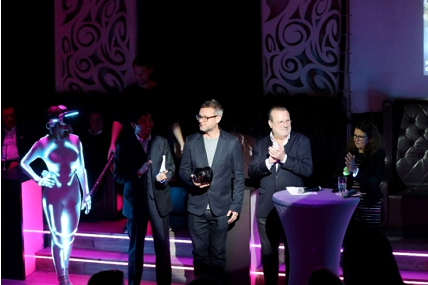 James O'Callaghan and Lisa Rammig, of London-based engineers Eckersley O'Callaghan, accepted the first-prize trophy in the Engineering category for their Steve Jobs Theater Pavilion project – the high point to date in the close relations between Apple and Eckersley O'Callaghan. Measuring 47 m in diameter, the theater pavilion's 80-tonne carbon-fiber roof is the world's biggest structure supported exclusively by glass. The 7 m high glass cylinder delivering this support is made up of panels, each comprising four plies of 12 mm thick glass sandwiching SentryGlas® ionoplast interlayers.
---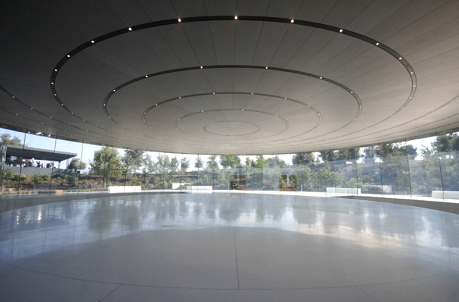 First prize for the Resilience category went to He'nan Fuxin Glass for its spectacular Zhangjiajie Glass Bridge project. At 430 m long and 260 m high, it was the world's longest and highest glass-bottomed bridge at the time of its opening in 2016. The bridge incorporates glazed elements comprising large 3 x 4 m laminated glass panels. At 50 mm thick, the panels are made of three layers of 16 mm low-iron glass, with two layers of SentryGlas® interlayer sandwiched between them.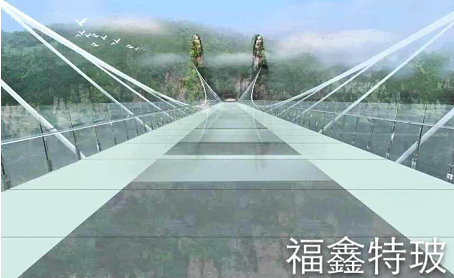 In the Aesthetics category, the Guilin Wanda Travel Center project submitted by Mingo Chen of Guangdong South Bright Glass Technologies Co., came out on top. The objective of the Wanda Group was to create a tourism complex that does justice to local culture and the topographical beauty of the surrounding landscape. For this, the Teng Yuan Design Institute used a special ribbed glass, which, when looked through, simulates different distances. SentryGlas® ionoplast interlayers contribute the necessary structural strength.
---
---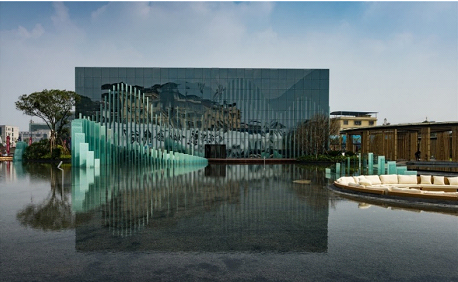 ---
---
Solutions for architecture and construction business
As a competent partner to many industries, Kuraray provides solutions tailored to their individual needs. For the architecture and construction business besides the fascinating glazing solutions with Trosifol® and SentryGlas®, Kuraray also offers industrial fibers for the reinforcement of cement and concrete, KURARAY POVAL™ for applications such as the fast and cost-efficient oil well construction and many more: