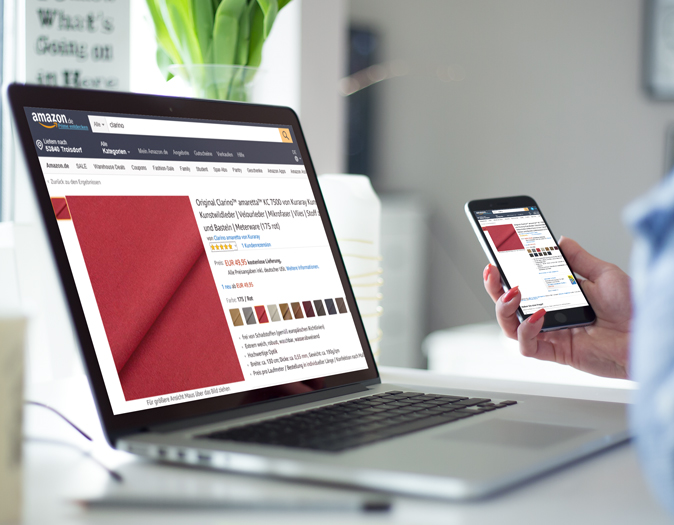 Kuraray products on Amazon
Quick, direct, individual – these days, more and more customers value the benefits of making purchases online. Kuraray has adapted to changing customer needs and is offering an initial selection of products via Amazon. For example, small tailor's shops and individuals who enjoy sewing as a hobby can now order the popular man-made leather Clarino™ amaretta™ KC 7500 online by the metre from Amazon Marketplace. Customers in manufacturing industry can order this product and the water-soluble 3D printing filament MOWIFLEX™ 3D 2000 via Amazon Business.
Clarino™ amaretta™ KC 7500 man-made leather has been marketed via Amazon's German e-commerce platform since the start of this year. This 130 cm-wide fabric is available in twelve different colours, cut to the required length. This soft, microfibre fabric is used for home-tailoring and crafts and is particularly popular for riding breeches. Kuraray has decided to market it to end-users via online sales channels because of the sharp increase in demand. "We want to use digital sales channels to broaden our target group and reach consumers," explains marketing assistant Sophie Öhler. The product offer is to be extended successively to the Amazon marketplaces in the UK, Spain, Italy and France. At present only a small selection of the range is available via Amazon. If this new sales outlet is a success, the business unit plans to extend the offering. The redesigned Clarino website is a further, complementary online marketing site.
Tailor-made for customers
While online selling is new to Kuraray Europe GmbH, it is a perfect fit with the company's corporate strategy: focusing its business on customers' requirements. This popular suede-look fabric is shipped from the company's own warehouse. That means Kuraray can respond specifically to the individual needs of different customers – from designers to small tailoring studios and private individuals. To guarantee that quality and exclusive look and feel of Clarino, Kuraray has opted to ship the fabric on rolls packaged in boxes rather than folded.
Amazon Business: buy MOWIFLEX™ 3D 2000 filaments online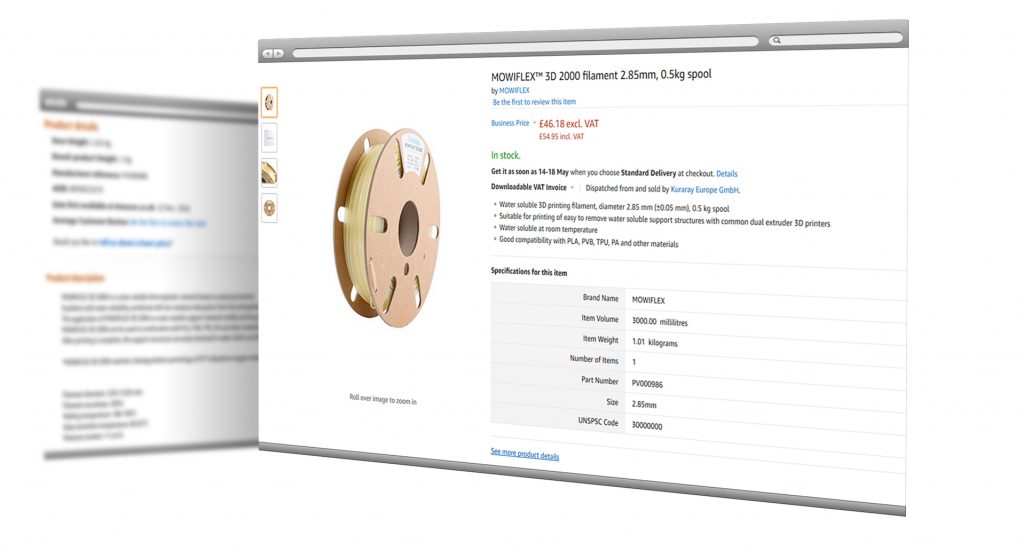 Stepping up digital distribution to B2B customers is also important. Since many companies search for suppliers online, a strong internet presence is a must these days. Kuraray therefore intends to extent digital marketing and online distribution in the future. As a first step towards digital B2B marketing, the company is offering its high-quality MOWIFLEX™ 3D 2000 printing filament to a broader target group: this water-soluble support material is now available via the Amazon Business platform.
MOWIFLEX™ 3D 2000 is a polymer blend based on polyvinyl alcohol (PVA). It can be used to produce support structures for complex, delicate shapes and objects with overhanging elements. Since the polymer blend is soluble in water, the material can be washed off easily at the end of the printing process and does not leave any contact marks on the printed object. That greatly reduces post-processing. Another benefit: the dissolved PVA material is biodegradable, allowing simple and environmentally compatible disposal via the wastewater system. "The outstanding properties of MOWIFLEX™ 3D 2000 are a response to the rising demands made on high-performance materials for 3D printing," says Heiko Mack, Head of Poval Business at Kuraray. "On Amazon, we now offer professional users of 3D printing even easier access to our high-performance printing filament. In this way, we enable applications for markets where 3D printing has become established as a new production method."
---
Order professional printing filaments online
Kuraray's MOWIFLEX™ 3D 2000 printing filament is now available online via the Amazon Business marketplace in 0.5 kg rolls with diameters of 1.75 millimetres and 2.85 millimetres. "Business customers can order MOWIFLEX™ 3D 2000 conveniently with just a few clicks in our online shop," explains Heiko Mack. "Order fulfilment is performed directly by our logistics team. And Kuraray's technical experts are happy to deal with technical questions and suggestions received by phone, email or using the contact form."
---
You need to be registered as a company on Amazon Business to enter and use the following pages.