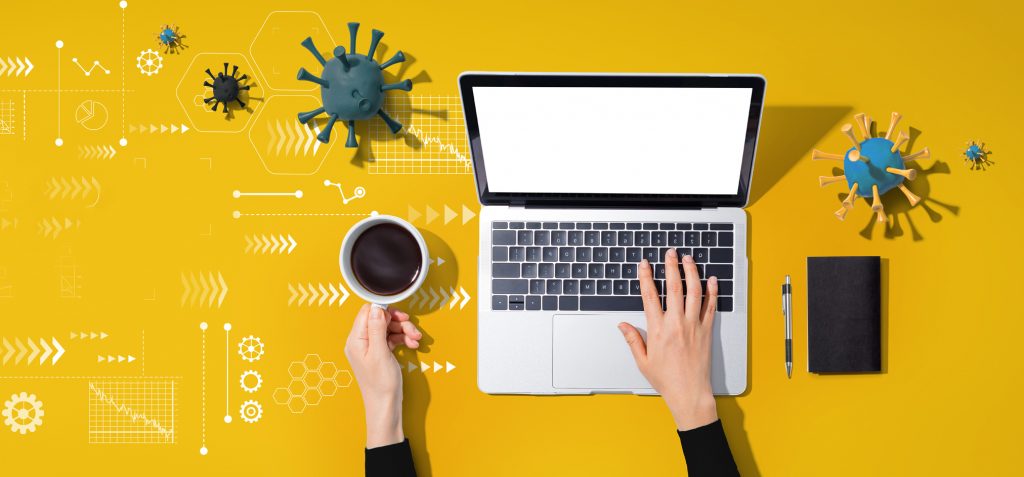 The COVID-19 pandemic began and suddenly the basic conditions changed for us all. Contact restrictions, working from home, video conferencing, short-time working and damage limitation dominated our work. In short: almost nothing worked as it did before. But, of course, we did not let that deter us! And some of what we are now doing differently will continue beyond the crisis: the pandemic has been an opportunity to test things that we probably would not have done to this extent or so quickly otherwise. Which just shows that every cloud has a silver lining.
Test field number one was, of course, working from home. To protect ourselves and others from Covid-19 at the height of the pandemic, colleagues around the world were asked to work from home from March onwards. And that went surprisingly well! We have asked three colleagues what working from home is like and how it feels to be someone who cannot work from home. Living and working under changed conditions – Kuraray employees talk about their personal experiences in extraordinary times.
>> Read more about their experiences in "#stayathome"
Other areas that were put to the test were training, internal workshops and major events. Many of these were promptly and successfully converted into virtual events. At the 3rd European Future Days, 100 Kuraray employees from Europe paved the way for future processes and applications – collaborating remotely due the Covid-19restrictions. For innovative projects like these, we have again been named one of Germany's innovation leaders by Prognos and the F.A.Z. Institute, which makes us really happy!
>> Read more in "Digital European Future Days"
We also received a pleasing accolade for our training: Kuraray Europe has been ranked among Germany's best companies for vocational training for the fourth time.
Read more about this in >> "Kuraray ranked among Germany's best companies for vocational training for the fourth time"
The pandemic has also brought challenges relating to our product range. Kuraray has various products that are making a valuable contribution to health and safety in the present crisis and are in great demand − so capacities have had to be adjusted: Examples are nonwoven fabrics for protective face masks, water-soluble laundry bags used to collect protective clothing after use and many more.
More details here >> "Crisis-proof products". We have also donated protective masks and clothing to various institutions >> "Community spirit"
We use our isopentyldiol in our own hand sanitizer formula, which makes our hands silky smooth – without any creams – despite constant exposure to disinfectants. You can read more about this in the article >> "#togetherstrong"
The crisis is driving forward many developments. For example, digitization is likely to receive a strong boost worldwide due to the pandemic. That includes 5G, which is a key technology for digitization. VECSTAR™ FCCL copper-clad LCP films can be used for high-frequency, flexible circuit boards – for maximum freedom in the design of new devices for 5G applications. Kuraray is prepared for rising global demand: it is increasing output and building a new plant for copper laminates.
More >> "New flexible high-speed film for 5G technology"
Above and beyond this, we are constantly developing new products to meet a wide range of new requirements. Kuraray is commencing production of >> two new polyvinyl alcohol (PVOH) grades in Europe: KURARAY POVAL™ 3-88 for low-viscosity coatings and water-resistant KURARAY POVAL™ 6-96, which is ideal for food packaging.
In the Piloting Alternatives for Plastics research project, we are extending our expertise in cellulose-based networks and developing completely new applications for our PVOH brands KURALON™, KURARAY POVAL™ und EXCEVAL™. You can find further details in >> "Natural fibres instead of plastics"
Innovation, reliability and customer orientation are just some of the reasons why customers have relied on Kuraray for many years. For example, the Swisspearl Group has placed its trust in Kuraray's KURALON™ as a starting product for its top-quality fibre cement Eternit® for more than 30 years.
Read more in >> "Kuraray and KURALON™ are ideal for Swisspearl"
And finally, this edition of our online magazine includes an interview with Dr. Matthias Gutweiler, President of Kuraray Europe, who has been a member of the Board of Directors of Kuraray Co., Ltd. since March of this year, which makes him the first board member from outside Japan. You can find out about his main tasks, what is particularly close to his heart and what priorities he would like to set for Kuraray Europe in >> "Change and growth – Shaping the future!"
---
Register here to receive for future issues.