Engineering materials for 3D printing
From initial model to prototype: these days, modern 3D printing technologies are used throughout the entire product development cycle. Market intelligence company IDC estimates that nearly USD 12 billion was spent on 3D printing in 2018. Ultimaker, the market leader in desktop 3D printing, and Kuraray have joined forces to offer a broader range of high-quality engineering materials for 3D printing. The aim is to create a wide range of applications for users and greatly improve the quality of 3D printing.
Optimized 3D printing: integrating materials and technology
A double-layered cushioning structure that combines a surface layer of foamed polyurethane and a nonwoven microfibre layer with a sponge-like texture gives the volleyball surface its distinctive elasticity and softness to the touch. A multi-pattern structure created by dimple embossing and fine surface patterning helps stabilize the ball's trajectory. The "Nano Balloon Silica" coating greatly enhances ball control by preventing slipperiness caused by factors such as perspiration during the game.
Jos Burger, CEO of Ultimaker: "High-quality 3D prints are the result of an optimized alignment of hardware, software and materials."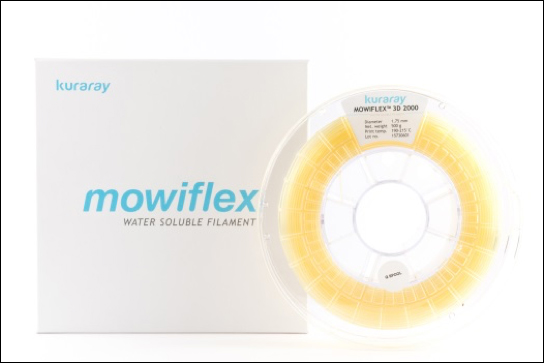 The development team in the Kuraray Poval business unit uses the experience of this 3D printing specialist to generate material profiles that produce optimum results on Ultimaker printers. Users can access a wide range of engineering plastics and composites for different requirements. And Ultimaker Cura 3D printing software offers the right printer settings for each material.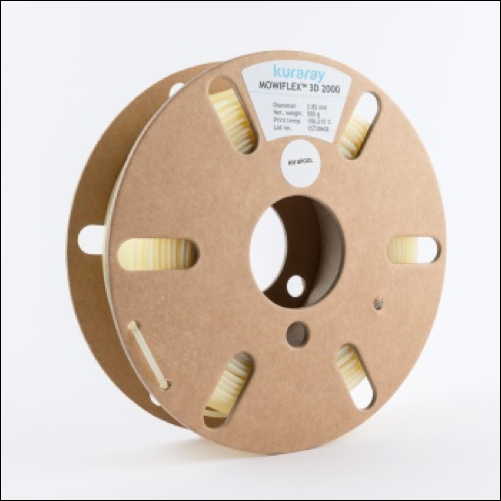 The water-soluble support material MOWIFLEX™, which Kuraray launched last year, plays an important role in this. This polyvinyl alcohol (PVOH)-based support filament for 3D printing can be used to produce support structures for complex forms. And since it is soluble in water, it can be dissolved simply in cold water at the end of the process. Thanks to its excellent printing properties, good bonding with a variety of materials and low moisture absorption, MOWIFLEX™ contributes to better printing outcomes. Moreover, it is biodegradable and can be disposed of conveniently through normal wastewater systems.
Printing materials for all industries and applications
The collaboration Kuraray and Ultimaker is a response to the rising demand for professional 3D printing technology. "The alliance with Kuraray allows the use of the most sophisticated engineering plastics on Ultimaker printers, so companies can fully embed 3D printing in their existing workflows," says Jos Burger. "3D printing users get access to sophisticated materials for all kinds of applications in different segments and industries."
---