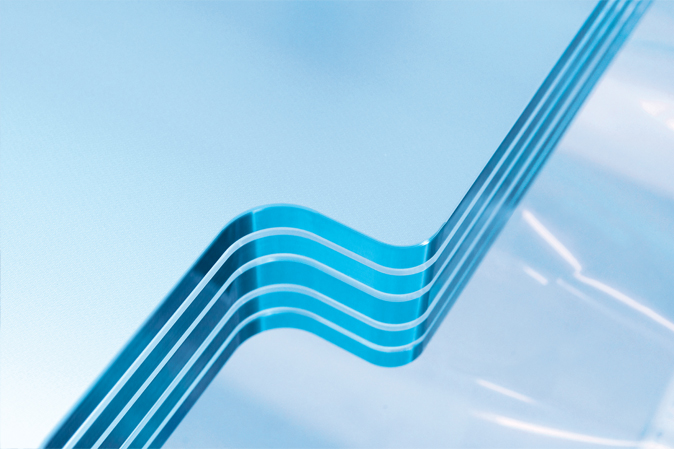 SentryGlas® Xtra™ for the world's most demanding structural glass projects
With SentryGlas® Xtra™ (SGX™), Trosifol™ now offers the next generation of its industry leading SentryGlas® ionoplast interlayer. The new product not only improves lamination processing efficiency, but also removes a number of the processing requirements placed on laminators. The result being a high quality laminate construction that delivers the outstanding operational performance synonymous with the SentryGlas® brand.
Of particular interest to laminators is the reduced risk of haze formation caused by an inadequate cooling rate. Adhesion to the air-side of glass has been significantly improved, too, with an adhesion primer no longer being required, making multiple-ply laminated glass assemblies easier to process. There is also the potential to increase the number of laminates in autoclaves, increasing throughput efficiency.
Hurricane system designers and manufacturers will benefit from the robust adhesion offered by the new interlayer, which offers the possibility of incorporating higher design pressures, larger glass sizes and a reduced need for retesting when there are challenging design requirements. The SentryGlas® Xtra™ interlayer will have a Miami-Dade County Notice of Acceptance (NOA) product approval in Q1 2019. Architects, designers and engineers, will also see many advantages, maintaining their confidence in the SentryGlas® brand, thanks to its outstanding optical quality, post-breakage performance, superior open-edge performance and resistance to delamination.
This new material offers near comparable performance to the existing SentryGlas® formulations, but we felt it was important to give laminators and processors as much help as we could when it comes to processing laminated constructions. The new features of SentryGlas® Xtra™ address many of the industry's concerns while still delivering the performance people have become used to – which is why SentryGlas® has been specified for many of the world's most demanding structural glass projects.

Jennifer Schneider, Trosifol™
The new material is available in sheet form in a range of film thicknesses. Rolls will be available later in 2019. SentryGlas® Xtra™ complies with global safety glazing codes including ANSI Z97.1, EN14449, EN12543, EN12600, EN356 and is SGCC listed.
---