Kuraray is one of Germany's innovation leaders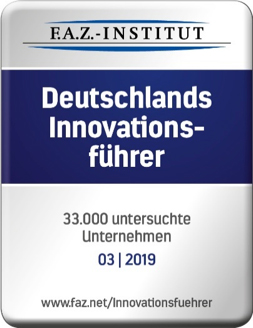 Kuraray is constantly setting new standards in the chemical sector with its high-performance materials, technologies and applications. Now this speciality chemicals producer, which has its European headquarters in Hattersheim, near Frankfurt am Main, has been awarded the distinction of ranking among Germany's innovation leaders in an evaluation undertaken by the daily newspaper Frankfurter Allgemeine Zeitung (F.A.Z.), in collaboration with the IMWF institute for management and economic research and the Prognos market research institute. Kuraray aims to make the world a little better with its sustainable products, for example, for packaging, high-performance materials for high-tech applications and solutions for new production technologies such as additive manufacturing.
As one of the world's leading producers of speciality chemicals, our goal is to develop products that help our customers solve today's challenges. Our barrier materials, which contribute to sustainable and environmentally friendly packaging solutions, are an excellent example. Being included in Germany's innovation leaders is evidence of the high standard of our research and development work.

Matthias Gutweiler, Managing Director of Kuraray Europe
The market research company Prognos assessed the innovative strength of 33,000 companies throughout Germany on behalf of the F.A.Z. and IMWF. The evaluation was based on criteria such as the number of international patent applications filed in the past ten years, the influence of patents on other inventions, and collaboration with industry and research organisations in Germany. Only around 10 percent of the companies assessed met the stringent criteria. Kuraray is among the award-winners.
Innovative materials for industry – from the automotive sector to fashion
Kuraray's innovative materials are used in many sectors and technologies, for example in high-performance coatings and structural adhesives in the automotive industry, in the production of functional ceramics for microelectronics, and as speciality materials for the construction industry. The company's research and development frequently addresses new technologies. For instance, its water-soluble support filament MOWIFLEX™ 3D 2000 is a unique material that allows the production of complex shapes in outstanding quality on 3D printers. In addition, Kuraray offers speciality materials for medical applications, cosmetics and the sports and textile sectors.
When it comes to innovative strength, this speciality chemicals company places high demands on itself. "Sustainability is a key topic at Kuraray. Therefore we are increasingly focusing on reducing pressure on the environment when we develop new materials and optimise our own processes," explains Naoya Uehara, Co-Managing Director of Kuraray Europe. "One example is SEPTON™ BIO-series. These thermoplastic elastomers are based on β-farnesene, a renewable monomer obtained from sugar sources such as sugar cane. These bio-based block copolymers are characterized by their excellent material properties. Through our ideas, we aim to make the world a little better in the future."
---