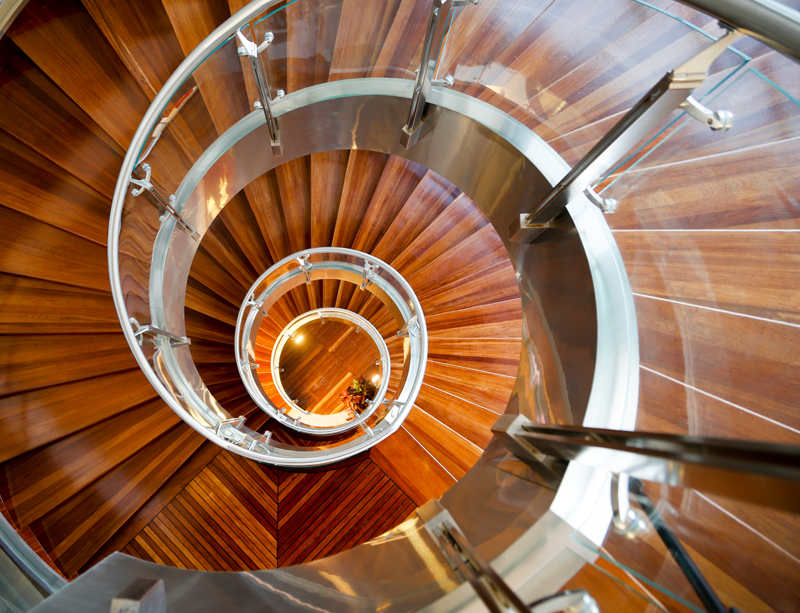 Coupling Traditional Polymers With Unusual Processing Technology To Create Unique Coating Solutions.
Within the specialty coating industry, all coatings are a sum of their parts. Some particles impart sheen, others adhesive strength and pigments. But the real unique factor is the chemistry behind the coatings that enables the particles to bond to various substrates. As a result, the polymer industry has developed a variety of materials to meet the demands of the specialty coating sector. Created decades ago, products such as polyvinyl alcohol (PVOH) are used in water-based adhesives, while polyvinyl butyral (PVB) helps improve tack, softness and adhesive strength in solvent-based adhesives.

PVOH and PVB begin as the same molecule. But, through chemical processing, they become vastly different in their chemical structure, as well as in the characteristics and properties they offer to the specialty coatings industry. As siblings, they are rivals in some markets, and are complementary in others. In the end, they are fast becoming unique solutions to meet the needs of a variety of industries, including marine varnishes, wood adhesives, inks, glues, reflective coatings, and more.
PVOH

PVOH is typically characterized by its degree of polymerization (DP), which indicates the length of the molecule, and its degree of hydrolysis (DH), which is typically 88 percent or greater and is indicative of the fraction of OH groups. A soluble polymer powder, it can be dissolved into water and create a viscous transparent solution that gives it excellent coating properties. These include superior wet-tack and heat resistance, along with improved adhesion to hydrophilic substrates. PVOH can also be cross-linked. It is often used for specialty paper coatings, paints, wood glues and water-based inks.
PVOH was discovered in Germany in 1924, commercialized in 1939 and introduced to the coating industry in the 1950s. Kuraray manufactures two types of PVOH: KURARAY POVAL™ and ELVANOL™. Kuraray began marketing KURARAY POVAL™ in 1958. ELVANOL™ was created by DuPont, but Kuraray gained ownership rights to the technology when it acquired Glass Laminating Solutions/Vinyls, a part of DuPont Packaging & Industry Polymers, in 2014.
Hydrophobically modified PVOH: EXCEVAL™ for paper coatings and food packaging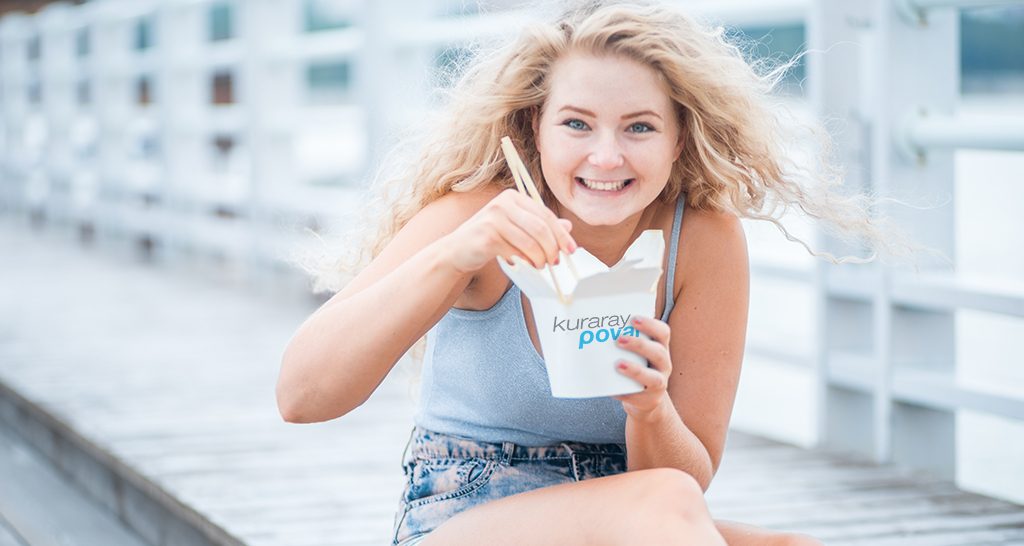 Using its experience in other co-polymer fields, Kuraray developed EXCEVAL™, a hydrophobic-modified version of PVOH that adds ethylene into the molecular chain (see below):

EXCEVAL™ is used throughout the emulsification process, specifically, in the polymerization and post-addition stages. The product has improved water resistance (compared to traditional PVOH), high surface activity and a low melting point. In addition, EXCEVAL™ is environmentally friendly, specifically for those seeking a formaldehyde-free solution for creating emulsions.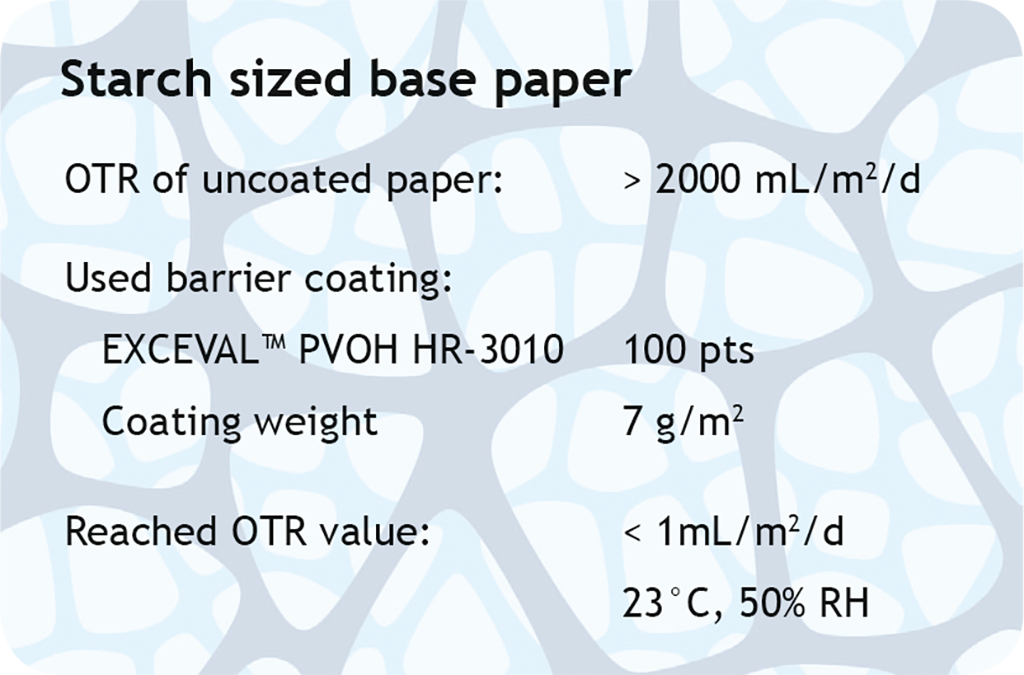 Within the paper coating industry, EXCEVAL™ has the ability to make paper competitive to many multi-layer, plastic-packaging solutions. When paper is coated with EXCEVAL™ , the material becomes stronger. It also results in high barrier to oils, greases, oxygen, carbon dioxide, and nitrogen, while also having better water resistance, with better flexibility. EXCEVAL™ is also approved by the Food and Drug Administration. This is especially appealing for the packaging of dry food products, including: coffee and tea; powdered soups, milks and drinks; cereals; herbs and spices; dried fruits, nuts and vegetables; hard cheeses; and institution bulk packaging. Such dry foods have the greater gas barrier of PVOH under dry conditions, and a reduced weight, thus possessing lower mechanical integrity requirements for lightweight paper packaging.
Combining polymers: creating PVB
PVB is a polar and real thermoplastic polymer that has its roots in PVOH (see chart below). Creating PVB starts at the beginning of the Vinyl Acetate (VAM) chain. From there, Polyvinyl acetate is created then saponified into PVOH. Next, it is reacted with an aldehyde to create PVB.

PVB grades are typically characterized by their degree of polymerization, content of vinyl acetate, degree of acetalization and vinyl alcohol content. Although insoluble in water, PVB can be dissolved in alcohols, esters, glycol ethers and sometimes hydrocarbons and ketones (depending on the grade). An easily to handle polymer, PVB is colorless and offers excellent gloss and strong adhesion to traditionally difficult substrates. Within the coatings market, PVB is an excellent addition to modern primers, lacquers and powder coatings.
Some of PVB's more unique properties include its ability to withstand typically abrasive environments, such as saltwater, making it excellent for maritime applications. It also possesses the ability to bind and adhere metal and magnetic powders, which are most often used for retroreflective and magnetic tapes.
PVB was originally developed by Hoechst AG in Frankfurt, Germany. The company registered and manufactured it under the trade name Mowital®, but later sold it to Clariant. In 2002, Kuraray acquired the PVB business and the trade name Mowital®. Six years later, Kuraray obtained the intellectual property for Pioloform® (another PVB product, today Mowital®) from Wacker Chemie. But, PVB's most common application is as the primary adhesive in the glass industry. This form of PVB is sold under the tradename Trosifol®.
For solvent-free coating needs: Trosifol® Thin Film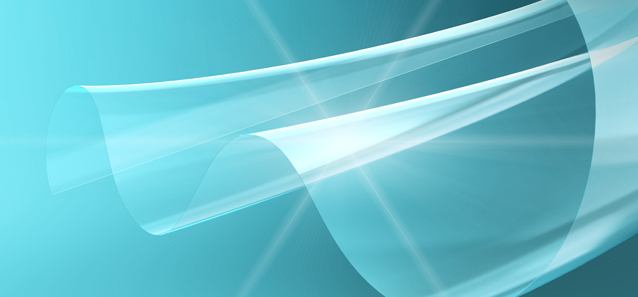 Over the years, the coatings market has raised demand for products with lower use of VOCs (volatile organic compounds). VOCs are solvents that get released into the air as paint dries and can cause acute symptoms, such as headaches and dizziness. Using its experience in the PVB film market, Kuraray developed a unique film for solvent-free coating needs — Trosifol® Thin Film.
Trosifol® Thin Film is a thin, plasticizer-free, PVB film that uses a roll-to-roll application process free from solvents and dust. The film can adhere to glass, metals, woods, and fabrics. It can also be cross-linked with other resins such as epoxies, phenolics and isocyanates without any plasticizer migration. Simply using heat and pressure, a company can get all the benefits of traditional processing with organic solvents, while improving its VOC footprint by using this innovative PVB film.