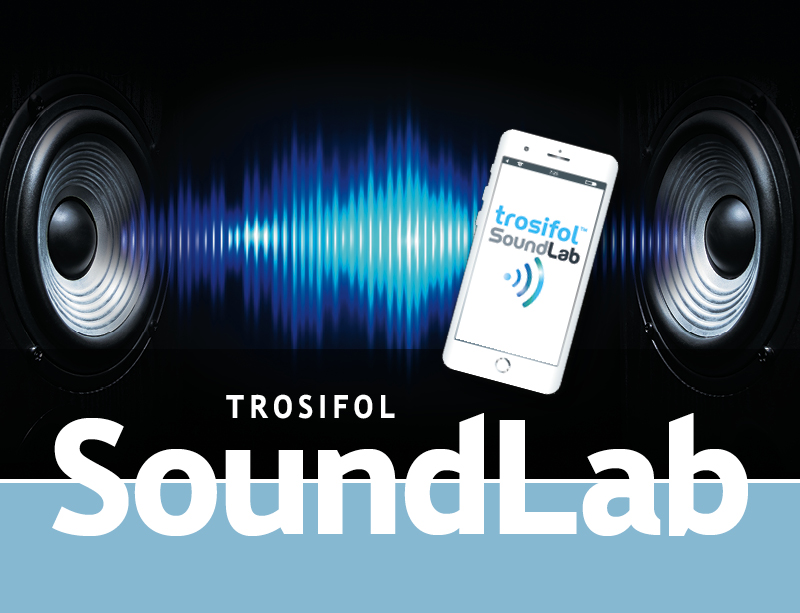 Trosifol SoundLab integrates AI
Kuraray is upgrading: as part of its digitalization campaign, Kuraray is integrating artificial intelligence (AI) into architectural planning. For some years now, the world's largest range of innovative laminated glass solutions for modern buildings and homes — including functional interlayers for sound insulation — has been complemented by the Trosifol SoundLab service. Architects, construction engineers and glass manufacturers can access data on the acoustic profile of various glass constructions produced with Trosifol® SoundControl films. In future, it will be possible to obtain thousands of individualized datasets from the new SoundLab database — thanks to AI and machine learning. This service highlights Trosifol's position as an innovative partner for laminated safety glass solutions.
Laminated safety glass with integrated Trosifol® Sound Control film has excellent sound insulation. The acoustic performance depends on the thickness of the inner and outer glass and the LSG interlayer used in the laminate. Thousands of different constructions are possible, especially in combination with insulating glass. Trosifol has produced over a hundred such constructions and had their noise insulation properties measured by independent labs. These data, including a sound insulation certificate, can be called up from the SoundLab database on the Trosifol website. However, until now it was not possible to replicate individual constructions in the architectural planning process.
Individual data thanks to AI
Using a special algorithm, from the start of 2021 AI-based acoustic insulation data can be obtained from the Trosifol SoundLab. Taking the structure and interaction of the data obtained from actual measurements as the starting point, an algorithm-based model has been developed. This uses machine learning to predict the noise insulation performance of any possible construction. Machine learning is based on an artificial neural network, which recognizes systems and patterns, a bit like the human brain. For this demanding project, Trosifol is working with a startup that specializes in IT and building.
The free software solution based on this smart algorithm will assist architects, glass producers and construction engineers in their daily work.
As an innovative partner for laminated glass solutions, Trosifol provides a range of service tools to help architects, glass manufacturers and construction engineers in their projects.
---