A portfolio of unique products that combine performance and sustainability
At K 2019, we present our comprehensive portfolio of high-performance materials. Meet us there at booth D06 in Hall 7a and learn more about our unique products that combine performance and sustainability:
Bio TPE based on sugar cane: a better performance with less crude oil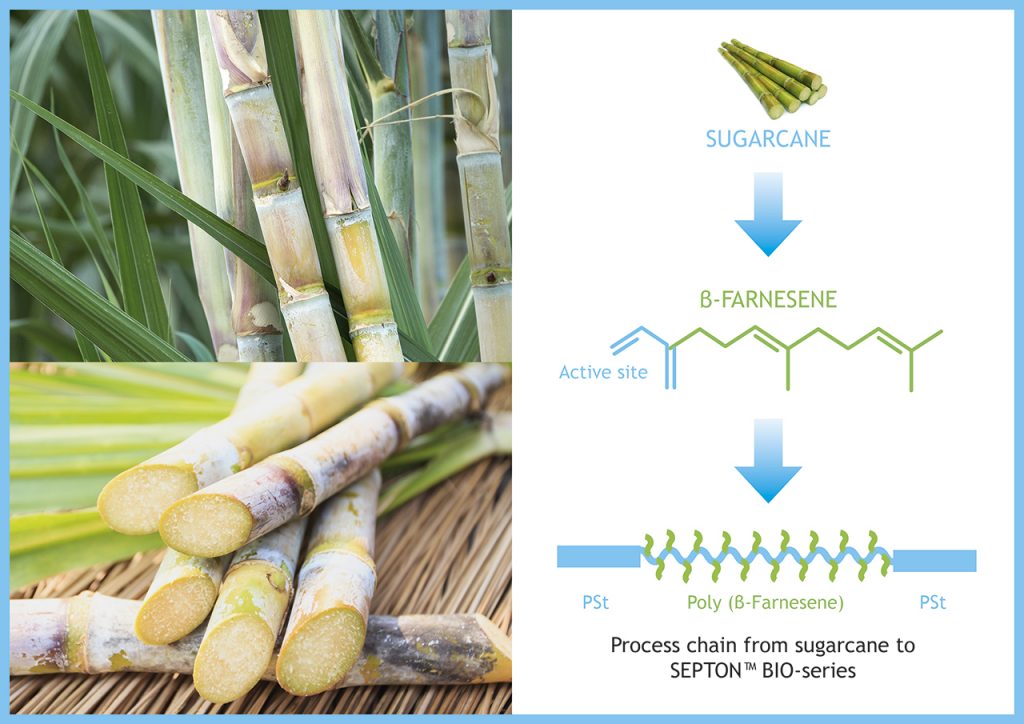 "SEPTON™ BIO-series, based on natural, renewable resources, is a new addition to our range of TPE materials. As one of the leading suppliers of TPE, we are responding to rising demand from industry for more sustainable materials," says Jan-Sebastian Weber, Senior Sales Manager at Kuraray. "This hydrogenated styrene farnesene block copolymer (HSFC) is particularly easy to process thanks to its very good flow ability and adhesion. It does not require any additional plasticisers and has a broader damping range than conventional hydrogenated styrene block copolymers (HSBC)." SEPTON™ BIO-series materials are based on β-farnesene, a renewable monomer derived from sugar cane. In fermentation processes, proprietary yeast strains convert the sugar into β-farnesene. The TPE raw materials are ideal for applications in adhesives, sealants, gels, films, and soft compounds and are used with their unique grip performance in the manufacture of handles, for example for sports equipment.
Simpler recycling of multi-layer plastic packaging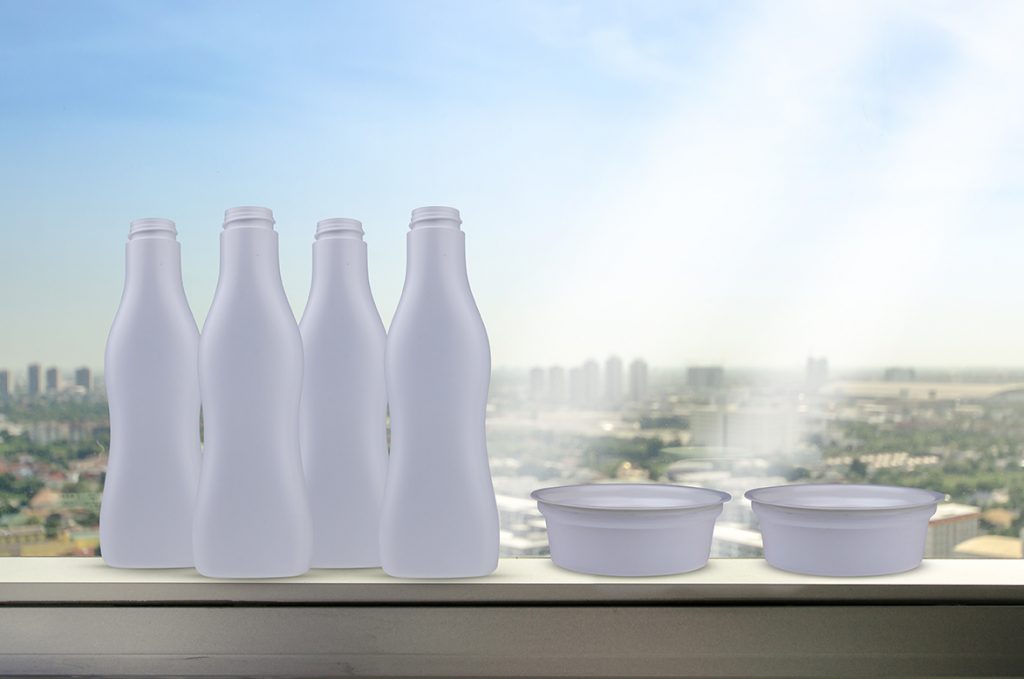 EVAL™ EVOH copolymer resin creates an impermeable layer for use in co-extrusion and co-injection processes. Its high-performance oxygen barrier properties make it an optimum packaging material, for example for dry foods such as coffee and dehydrated milk: it keeps out gases such as oxygen and keeps in the flavour of the food. It maintains its barrier properties even after heat treatment and can be used for retort packaging as a substitute for materials like glass, aluminium or tin. In addition, there are advantages in the recycling process: adding 10 percent PP-EVOH recycling material from industrial sources to recycled PCR-PP or PCR-HDPE from domestic refuse collections did not affect food-safe cleaning, further processing or the physical properties of the recyclables compared to PCR-PP or PCR-HDPE alone. This addition corresponds to 5 times the proportion currently detectable in the recycling of PP materials. "We are presenting a completely new grade of our EVAL™ EVOH copolymer at K 2019," says Hiroyuki Shimo, President of Kuraray Eval Europe. "Its particularly low ethylene content facilitates the development of more easily recyclable multi-layer structures. It therefore makes an important contribution to more efficient use of resources."
---
Fully sustainable: biodegradable starch-based barrier material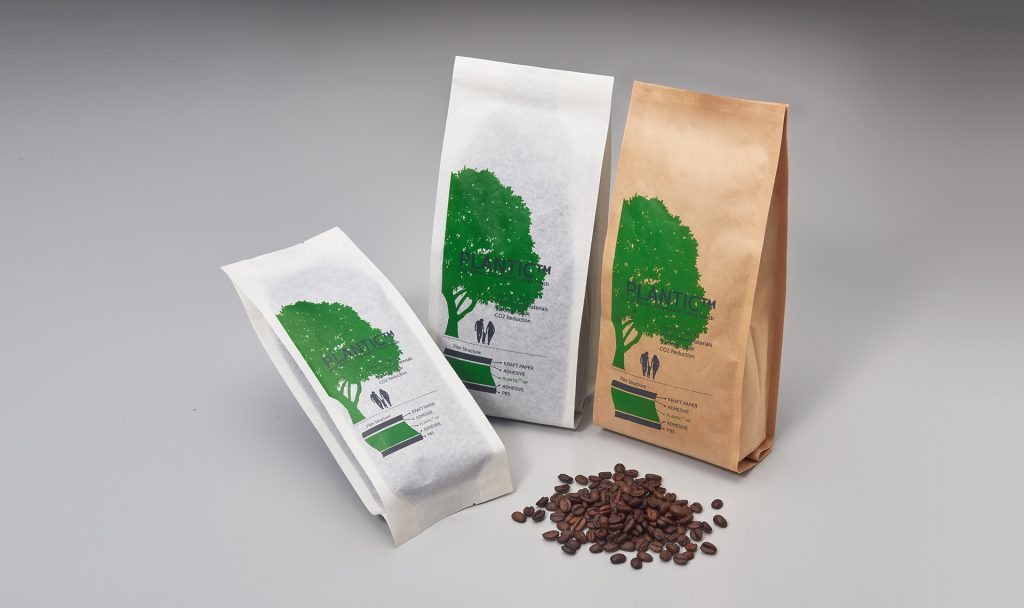 "Kuraray's PLANTIC™ is a unique alternative barrier packaging material that is geared entirely to sustainability," says Stefan Corbus, Market Development Engineer at Kuraray. "Since it is more than 80 percent starch and is produced from renewable raw materials that have not been genetically modified, the optimised carbon footprint and biodegradability of this biopolymer minimise its environmental impact." It acts as an excellent barrier to atmospheric oxygen, making it ideal for packaging sensitive foods such as coffee and snacks as well as dry animal feedstuffs. As a 50 µm thick monolayer film, PLANTIC™ can be laminated to various materials. For example, in combination with paper it can be used to produce fully biodegradable packaging. Since PLANTIC™ is soluble in water, laminates with non-biodegradable materials are easy to separate for simple and safe recycling.
Edible films to reduce pollution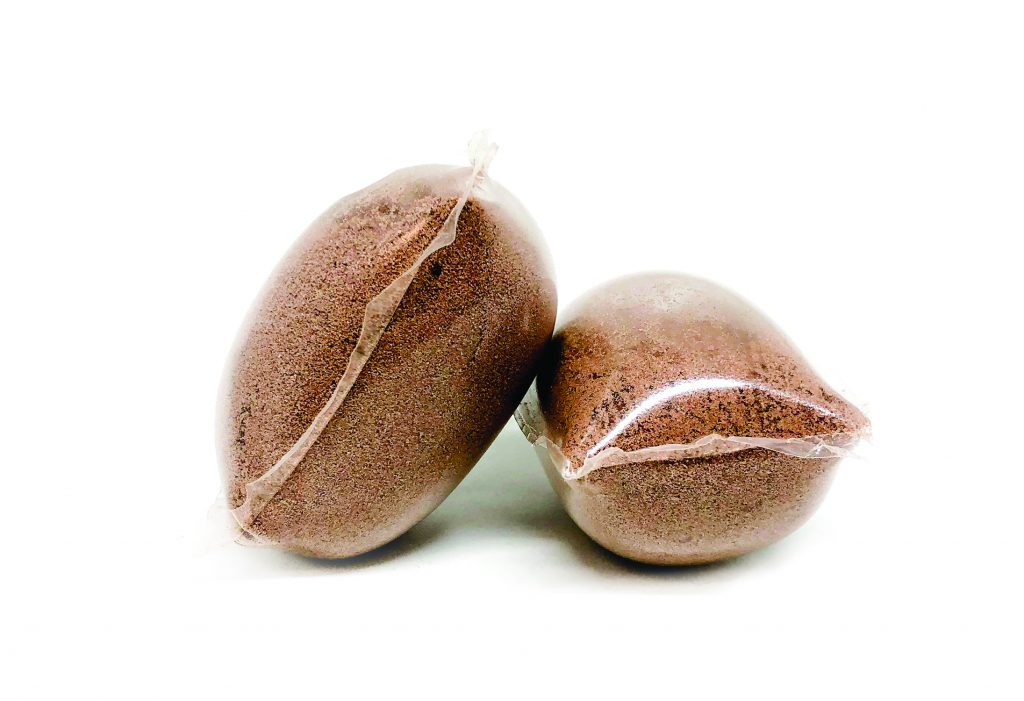 "Our MonoSol brand of water-soluble PVA films has revolutionised the detergents industry," says Yash Parulekar, Senior Manager, Global Product Stewardship at Kuraray. "Leading consumer goods manufacturers use these films, for example, for laundry and dishwasher pods. We are exhibiting our new edible films at K 2019. Uses include packaging for protein and meal replacement shakes, food colorants, spices, cooking oil, pasta, rice, oats and flour." The films produced using MonoSol technology dissolve completely in water, are biodegradable and do not cause impurities in recycling chains or pollute the environment with microplastics. Their outstanding barrier properties and superior sustainability profile make them an ideal substitute for many single-use plastic packaging materials. In addition, the films can be used in personal hygiene and cosmetic products such as shampoos, conditioners and soap.
Animal and environment-friendly: completely solvent-free man-made leather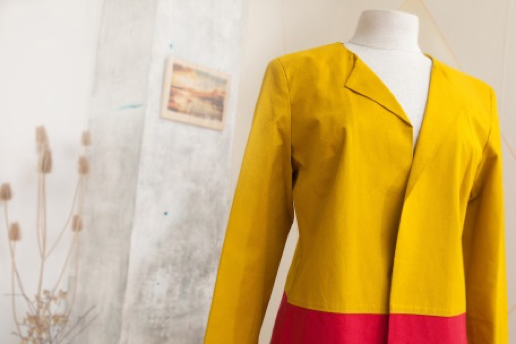 CLARINO™ Suede is a sustainable alternative to leather. It is produced without any animal-based products. This suede-look microfibre is water-borne and the production is animal and environment-friendly. In addition, CLARINO™ Suede is highly versatile: this heat-resistant product can be embossed and printed. "Our new range of sustainably produced CLARINO™ Suede man-made leather has been available since the start of 2019," says Sophie Oehler, Marketing Assistant at Kuraray. "Available in 60 shades, CLARINO™ Suede maximises flexibility when designing luxury fashion accessories such as bags – and also reduces environmental impact."
PVA for lost-core and 3D printing processes: biodegradable and water-soluble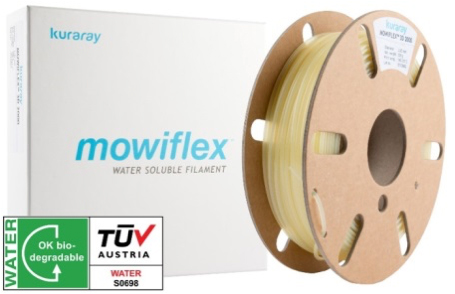 "Our MOWIFLEX™ polyvinyl alcohols (PVA) are ideal for thermoplastic processes such as film extrusion and injection moulding," says Heiko Mack, Head of Poval Business at Kuraray. "These materials are soluble in water and biodegradable. That makes them an environment-friendly solution for the production of hollow shapes in the lost-core process. They can also be used for professional 3D printing." MOWIFLEX™ 3D 2000 support filament allows the production of precise support structures for 3D printing of filigree and overhanging structures. After printing, it can simply be washed off with water, without leaving any contact marks on the object. That ensures optimum printing results. MOWIFLEX™ meets the requirements of ISO 14851 and can be disposed of conveniently in an environmentally compatible manner through normal wastewater systems. That is confirmed by the "OK biodegradable water" certificate awarded by TÜV Austria*). It hence offers an environmentally friendly solution for 3D printing or the manufacture of hollow moulds using the lost core process.
*) MOWIFLEX™ C 17 and 3D 2000 are certified as "OK biodegradable water" by TÜV Austria.
Cost efficient and environmentally friendly lost core injection molding with MOWIFLEX™

The design of injection molded parts is typically limited by their demolding ability. Frequently, multiple expensive retractable and/or collapsing cores are required to manufacture complex plastic parts with undercuts or hollow sections. In some cases the only possibility is to mold multiple parts, which are welded together afterwards.
This limitation can be overcome by using the lost core injection molding technology.
The lost core injection molding is a valuable method to produce single-piece, hollow parts with complex internal geometry. With this method, an inner core is molded first. This is then inserted into the injection mold and molded with plastic. After the demolding, the core will be physically melted or chemically dissolved, leaving its outer geometry as the internal shape of the plastic part.
However, depending on the core material the process becomes costly and/or environmentally critical. Metal cores need to be removed by a melting process (Tmelt metal <Tmelt plastic). And though the metal can be reused, this turns it into a costly method. Conventional plastic cores need to be dissolved by chemicals which has an environmental impact.
Kuraray offers a solution for this method which is cost efficient and environmentally friendly: MOWIFLEX™, a thermoplastic polyvinyl alcohol compound, which can be injection molded to water soluble objects. Due to its high stiffness and water solubility it is suitable for use as a temporary core.