Sustainability award for coffee bean packaging with Plantic™ biopolymer
Food packaging has many benefits: for example, it preserves the favour of coffee and spices and keeps food fresh for longer. The key is a barrier layer, which protects the contents from atmospheric oxygen and keeps the flavour and aroma inside the packaging. Another important goal in the packaging sector is to reduce packaging waste to protect the environment. Kuraray markets Plantic™, a bio-based barrier material that has high impermeability to oxygen and is also biodegradable. Packaging producer Softpack Co., Ltd. uses Plantic™ for a new, environment-friendly coffee packaging that meets stringent compostability requirements. In 2018, the innovative coffee pouch received the Grand Prize, the first prize in the Green Packaging Awards presented by South Korea's Ministry of the Environment since 2011.
Fully biodegradable coffee packaging with Plantic barrier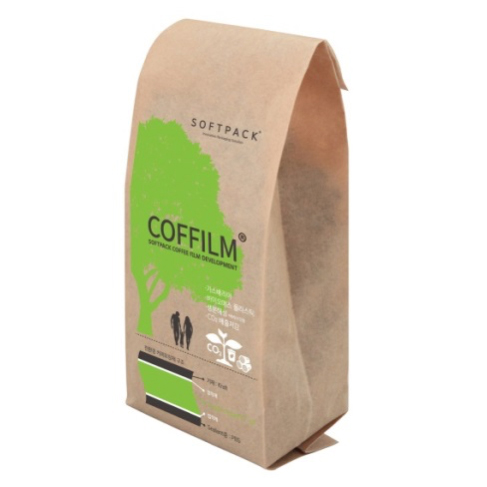 The South Korean company Softpack specializes in environmentally friendly packaging. Its pouches for coffee beans are manufactured entirely from biodegradable materials. Plantic™ is a central ingredient in this sustainable packaging concept. Plantic™ is 80 percent starch and is produced sustainably from renewable raw materials. At the same time, its optimized carbon footprint and biodegradablility minimize environmental impact. The high barrier performance of this biopolymer ensures high-quality packaging that preserves the flavour of coffee beans. The pouches produced by Softpack are therefore a sustainable and environmentally friendly alternative to conventional packaging that uses aluminium foil or similar materials as a barrier layer.
All-round sustainability: barrier material made from renewable starch
Kuraray's Plantic™ is a unique alternative packaging material that is geared entirely to sustainability. Plantic™ enables producers around the world to create more environment-friendly packaging. Naturally, this product is also available in Europe.

Stefan Corbus, Market Development Engineer at Kuraray
The biopolymer can be laminated with many other environment-friendly materials. It is an excellent barrier to atmospheric oxygen, so it can be used to package high-quality and sensitive foods such as coffee, snacks and sweets as well as dry animal feed. The high barrier performance of Plantic™ reduces food waste by keeping food fresh for longer. The material does not contain plasticizers, nor does it compete with food production. In addition, Plantic™ Technologies Limited only uses raw materials that are not genetically modified.Result of a long-standing partnership
The South Korean Environment Ministry and the Korea Environment Packaging Promotion Institute have jointly sponsored the Green Packaging Award since 2011 to promote and reward environment-friendly packaging technologies. Softpack's sustainable packaging solution and Plantic™ barrier material from Plantic Technologies Limited (Kuraray Group) received the award for a product that is already making a contribution to more environmentally aware and environmentally friendly packaging around the world.
---