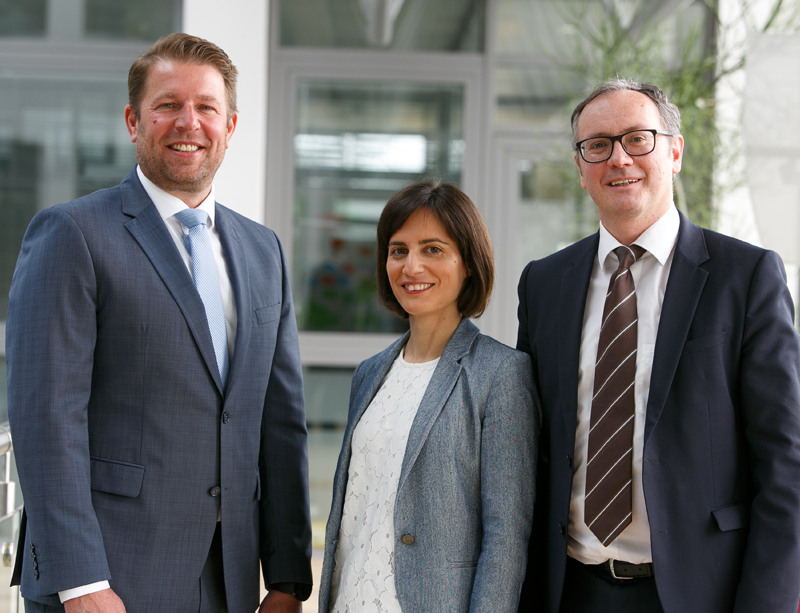 Round-table interview of Kuraray experts: "We're creating tomorrow's industrial materials"
Industrial coatings, colorants and adhesives are constantly expected to do more, yet be simple and cheap to apply. Experts at Kuraray, one of the world's leading speciality chemicals producers, are therefore developing high-performance polymers to make industrial processes more efficient. Innovative materials based on polyvinyl butyral (PVB), polyvinyl alcohol (PVA) and elastomers are better for the environment and can be used in demanding applications from 3D printing to automotive engineering.
In this interview, Dr. Maria Martinez Velencoso, Application Development Engineer for elastomers, Jörg Bruss, Director Global Business for Technical PVB, and Heiko Mack, Head of Poval Business, talk about the demands made on tomorrow's coatings, colorants and adhesives.
---
Kuraray markets a wide range of materials for the coatings, colorants and adhesives industry. What are the latest trends in this market?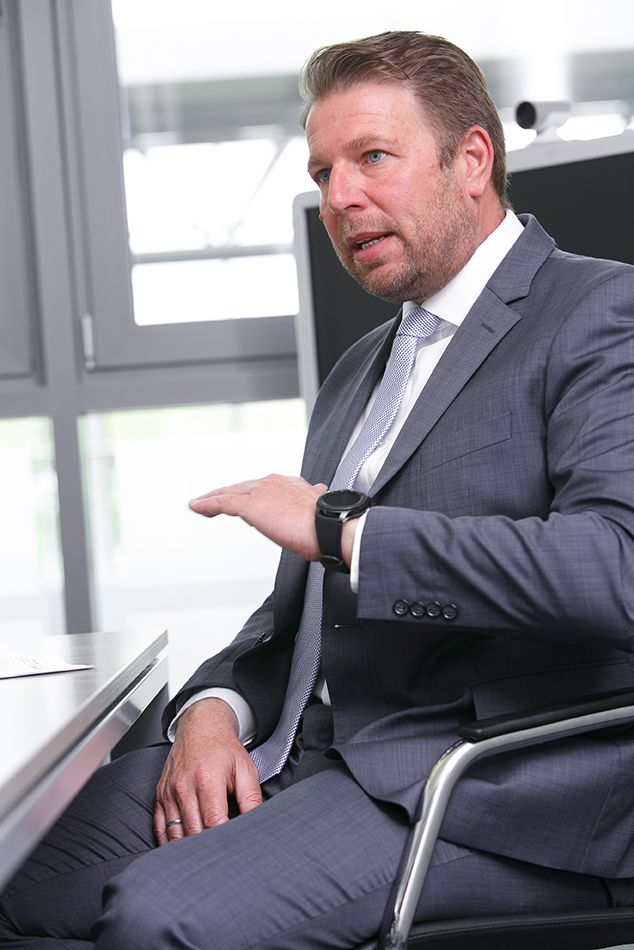 Jörg Bruss: Industry wants durable, high-performance products that can be processed efficiently. At the same time, their impact on health and the environment needs to be minimal. In terms of efficiency we see ourselves as one of the leading producers of speciality chemicals where properties such as viscosity are very important.
Where can viscosity improve efficiency?
Jörg Bruss: In curtain coating, for example. This is an industrial process where parts such as automotive components are coated by passing them through a liquid "curtain" of the coating material. Our new PVB product Mowital® BA 55 HH can be used as a binder in this process. Its specific rheological properties give paints and coatings very uniform flow properties in this process.
So application can be controlled more accurately …
Jörg Bruss: Precisely. The coating can be applied more sparingly and the process can be speeded up, which increases capacity. That even applies for complex processes with several consecutive curtain coating steps. And our product can do even more: it has very good heat resistance and its glass transition temperature (Tg) is 40 percent higher than comparable commercially available PVB grades. BA 55 HH is therefore ideal for applications where materials are heated to up to 200 °C within a short time, for example, heat-seal lacquers and hot-melt adhesives for food packaging.
Heiko Mack: Curtain coating is also used to coat packaging paper. For this application, we offer our new high-molecular-weight KURARAY POVAL™ polyvinyl alcohol KP 200-88 KX. This PVA grade improves rheology in this process and at the same time reduces the amount of material required.
Dr. Maria Martinez Velencoso: The automotive industry is another example. Here, elastomer adhesives are increasingly replacing spot welding. Viscosity is an important requirement here. On today's modern assembly lines, the adhesives are applied by robots. To ensure that they can be pumped through the robotic arms, they need special rheological properties, in other words, special flow properties, and very low viscosity. Using solid rubber has limitations ….
… so Kuraray Liquid Rubber is used?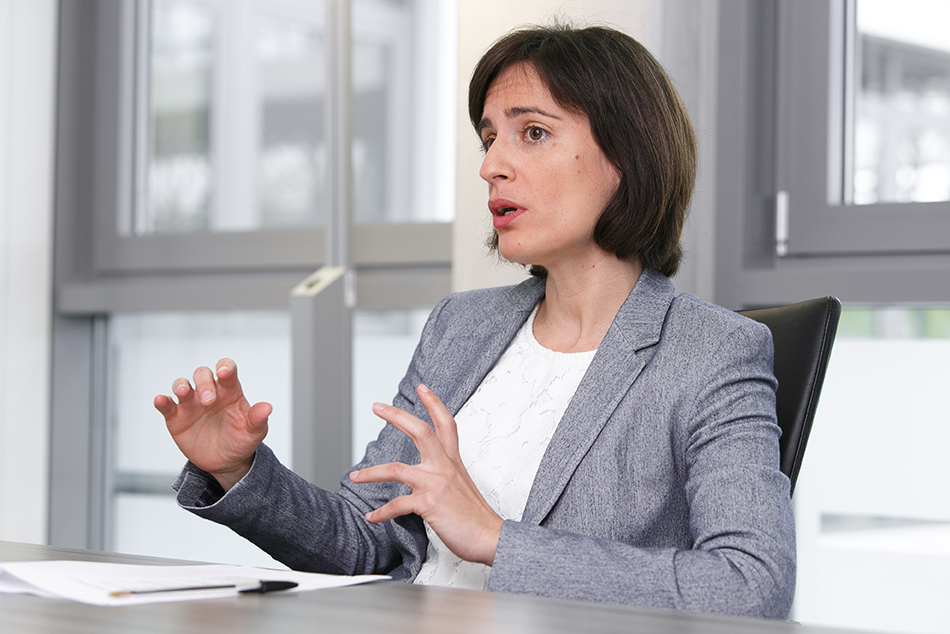 Dr. Maria Martinez Velencoso: Yes. Our range includes Liquid Rubber grades with different molecular weights — ranging from low to very high — for different applications. They give the adhesives used in the automotive industry the very good flow properties required for processing and also improve their mechanical properties.
Can you explain how?
Dr. Maria Martinez Velencoso: One of the main reasons for using elastomer-based adhesives is their high elasticity. Cars, especially electric cars, are expected to be increasingly lightweight. And because electric engines are quiet, it's becoming more and more important to avoid disturbing noise and vibrations inside and outside the car. To reduce weight, manufacturers are using completely new material combinations for the bodywork. That means, for example, that aluminium and steel may be used right next to each other.
Jörg Bruss: However, they have very different thermal expansion properties when exposed to fluctuations in temperature.
Dr. Maria Martinez Velencoso: Exactly. Aluminium and steel expand and shrink very differently when the temperature changes. So using them together in the car body is a big challenge for adhesive bonding. Adhesives and sealants have to be elastic enough to compensate for differences, noises and vibrations, and give the car body reliable structural stability.
And Liquid Rubber does all that?
Dr. Maria Martinez Velencoso: Indeed! And unlike conventional elastomers, Liquid Rubber remains flexible at very low temperatures. Adhesive compounds with liquid rubber retain their shock resistance even at low temperatures. That ensures safe structures. Tire manufacturers also use this property: Liquid Rubber improves the grip of winter tires. In addition, we are currently developing new products with a low molecular weight. They have a variety of functional groups with which they can be optimally combined with other materials – such as fibers or metals of the car body.
Heiko Mack: Increased health and environmental awareness are other important issues in the coatings, colorants and adhesives sector. Consumers are paying more and more attention to the environmental profile of the products they buy. At Kuraray we've been working on that for a long time. We market materials that our industrial customers can use to develop sustainable and healthy solutions with a better environmental profile. Examples are materials with a low VOC content such as the new KURARAY POVAL™ polyvinyl alcohol (PVA) LV grades.
Why is a low VOC content important?
Dr. Maria Martinez Velencoso: Volatile organic compounds (VOCs) can have negative health and environmental effects. In our development labs, we are therefore working to reduce the VOC content of materials, for example, the residual monomer content or the proportion of methanol in PVA.
What's special about the new KURARAY POVAL™ LV grades?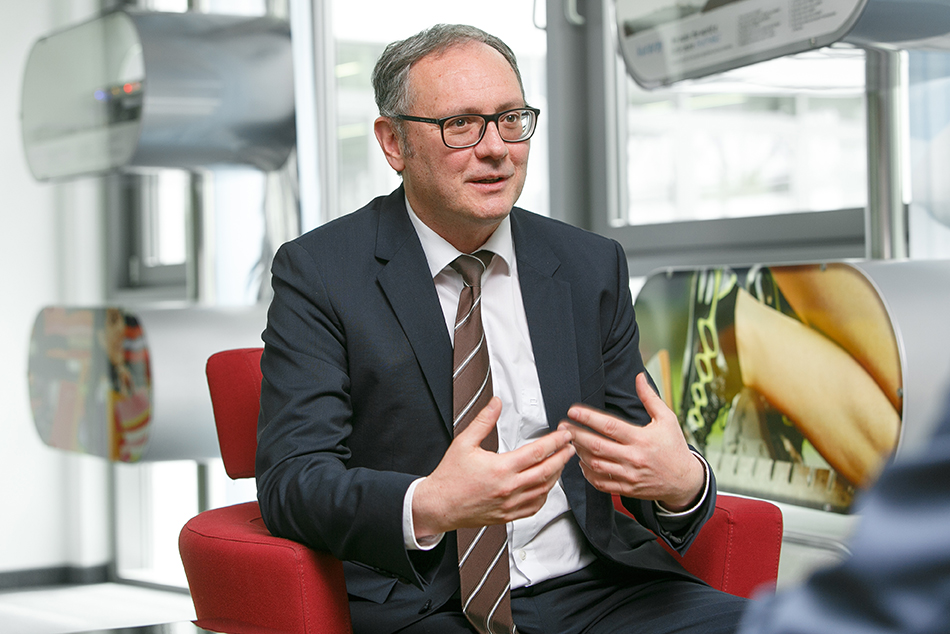 Heiko Mack: The methanol content of the LV grades is just 0.3 percent — ten times lower than in conventional PVA. That's achieved by a complex purification process that has been specially developed by Kuraray.
So what are KURARAY POVAL™ LV grades used for?
Heiko Mack: At the moment they are used, for example, in cosmetics. We've also registered some interest from adhesives manufacturers, especially for consumer adhesives.
Jörg Bruss: Environmentally friendly and healthy product solutions are something the food packaging industry has been talking about for a long time. So far, this sector has mainly used PVC-based colorant systems, but they can cause allergies as a result of their residual monomer content. Major food and beverage producers have therefore announced that they don't want to use PVC in the future.
What alternatives are there to PVC for printing packaging?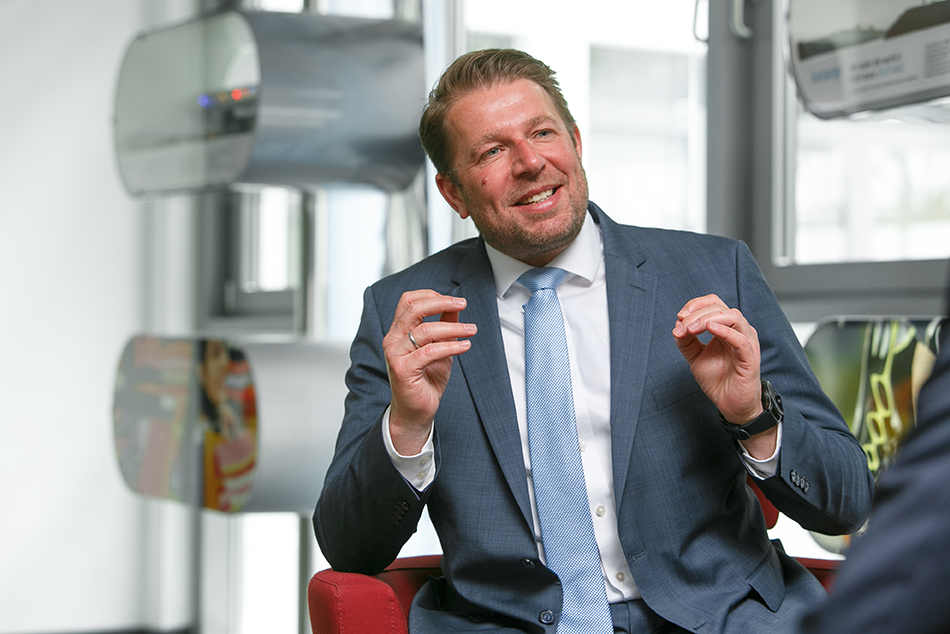 Jörg Bruss: PVB products such as Mowital® from Kuraray have an advantage here. They don't contain any impurities that cause health problems and are therefore quite safe for consumers. And there's another benefit: although a solvent is used in PVB printing inks, it is normally ethanol, which is biodegradable. Ethanol allows environmentally friendly recycling and it can also be produced sustainably from renewable raw materials.
Heiko Mack: Talking about recycling: the European Commission has set a target for all plastic packaging used in the EU to be reusable or recyclable by 2030. Therefore, we are seeing rising demand for packaging paper, especially from food producers. One challenge for packaging producers is to give paper an effective barrier to oil, grease and oxygen …
… so the packaged food stays fresh and edible for longer and the packaging is stable?
Heiko Mack: Exactly. Our PVA barrier coating product EXCEVAL™ makes packaging impermeable to grease and oil and acts as an effective gas barrier. EXCEVAL™ is an aqueous solution that is used to coat packaging materials. It is also free of chlorine and solvents.
Does it make packaging environment-friendly?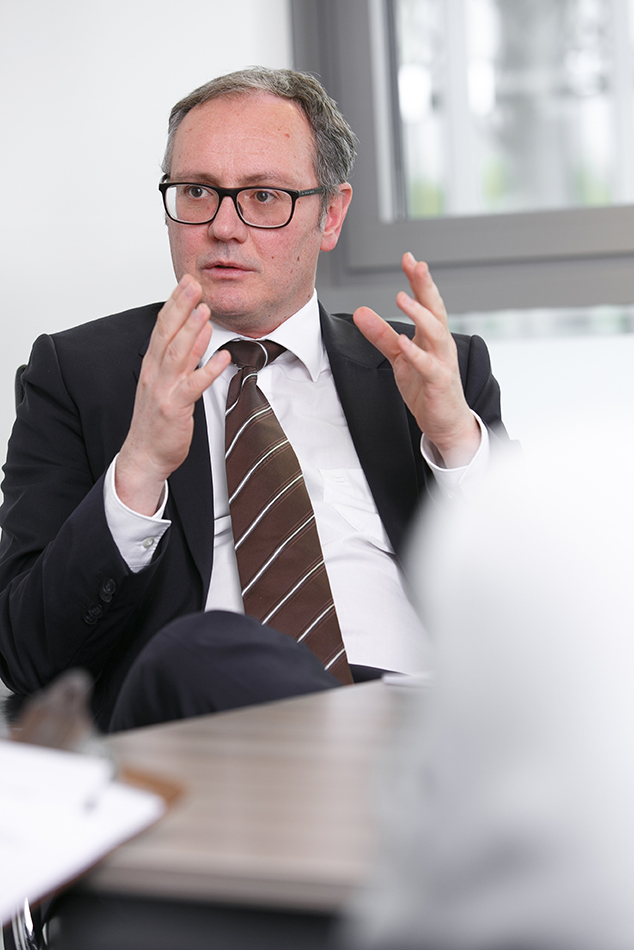 Heiko Mack: Yes. Unlike coatings based, for example, on acrylic latex, EXCEVAL™ is completely biodegradable in water. Together with paper and other biodegradable materials, it can therefore be used to create easily recyclable, environment-friendly alternatives to conventional food packaging.
Can you give a recent example?
Heiko Mack: A big retailer in Germany recently introduced biodegradable coffee capsules. EXCEVAL™ is used as the coating material. That's a completely new application where we are working closely with our colleagues at Eval, Kuraray's Ethylene Vinyl Alcohol (EVOH) business unit. Eval™ EVOH has been used for a long time in conventional coffee capsules. Thanks to our expertise in many areas, we have developed a high-performance solution for our customers.
Jörg Bruss: 3D printing is another example. In the PVB business, we're currently working on new formulations for printing filaments, which could be used on 3D printers to produce components in injection moulding quality. PVB materials such as Mowital® have an edge over the polylactide (PLA) and acrylonitrile butadiene styrene (ABS) copolymer-based materials that currently dominate this market. They have high mechanical stability so they can be used to produce higher quality surfaces. The experience of our colleagues from Poval is helping us here.
Heiko Mack: Poval has had a 3D printing material in its range for some time: the water-soluble support filament MOWIFLEX™ 3D 2000. Incidentally, this product is now available via the Amazon Business platform. Joint tests with Mowital® show that very good printing results are achieved with our PVA and PVB-based materials.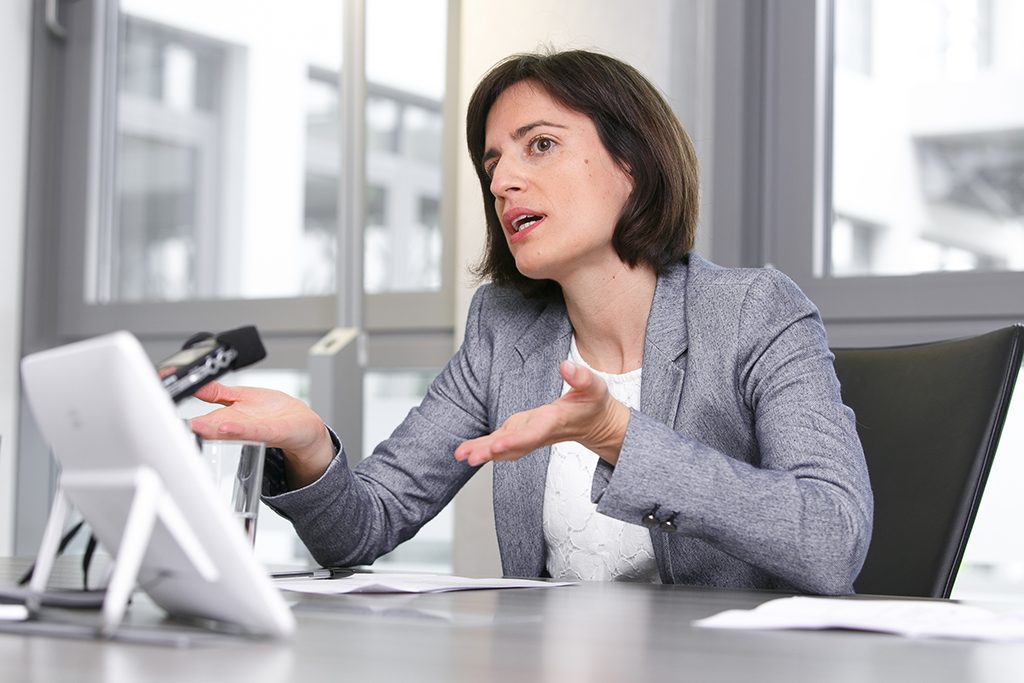 Dr. Maria Martinez Velencoso: There are an increasing number of applications for elastomers in 3D printing. We offer extra functional types that give the workpieces long-term elasticity.
Heiko Mack: I'm sure there are other areas where we could work together. Our expertise in various materials enables us to create innovative materials for colorants, coatings and adhesives – right up to additive manufacturing.
Many thanks for the interview.
---
Watch our Video "Beyond the surface":