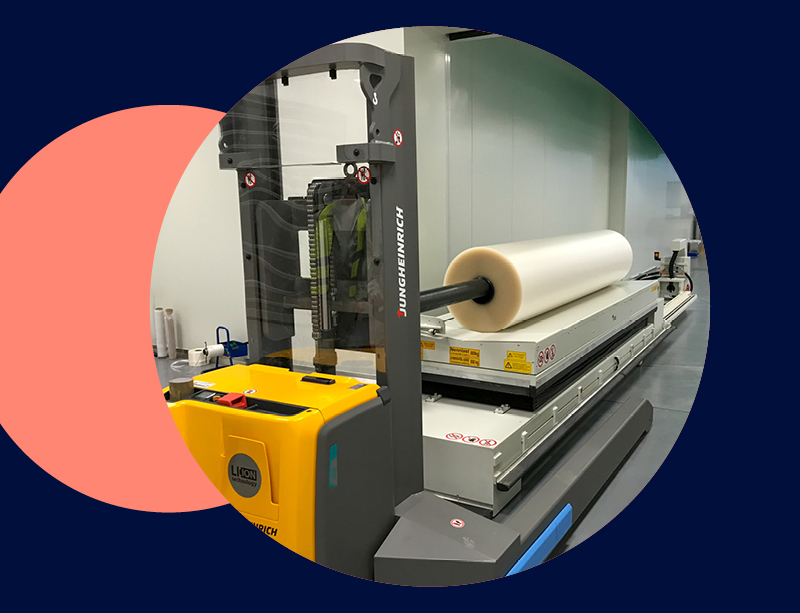 Specially designed for the requirements of medium-sized customers
Trosifol continues to pursue its strategy of supplying different customer groups with customized products tailored to their specific needs.
Larger customers prefer jumbo formats – with widths up to 3.21 m – and attach great importance to efficient production. They prefer products with low adhesion in order to achieve high safety classes in combination with non-toughened float glass.
However, medium-sized customers usually process heat strengthened or fully tempered glass. Highly adhesive products with excellent optics are more advantageous here, as this reduces the risk of delamination; and very high-quality glass can be combined with optically superior products.
As a result of this customer-centric approach, especially for its medium-sized customers, Trosifol is expanding its product portfolio, in the area of decorative colored films, with a high-adhesion translucent white PVB film.
Produced at the Czech Trosifol site in Holešov, the product has the same optical properties as Trosifol's existing Translucent White, but with increased adhesion. As with all Trosifol® Translucent White products, however, the manufacturer recommends only processing films from one batch within a project in order to ensure consistent quality.
Trosifol® Translucent White is part of the "Decorative Glazing" color palette and, with tasteful backlighting, ensures semitransparent moods. With 70 percent light transmission, Trosifol® Translucent White is ideally suited as a privacy screen. In addition, the manufacturer emphasizes that Trosifol® Translucent White also guarantees proven advantages, such as excellent edge stability, high mechanical strength, excellent long-term stability and the possibility of using it indoors and outdoors.
The new Trosifol® Translucent White is available in 0.76 mm (30 mil) thickness and in roll lengths of 250 m (820ft). The rolls are available in numerous, customer-friendly widths:
100 cm (39 in)
110 cm (43 in)
120 cm (47 in)
130 cm (51 in)
160 cm (63 in)
183 cm (72 in)
225 cm (88 in)
240 cm (94 in)
Trosifol is the leading global producer of PVB and ionoplast interlayers for laminated safety glass applications in the architectural segment. With the biggest product portfolio worldwide, Trosifol offers outstanding solutions:
Structural: Trosifol® Extra Stiff (ES) PVB and SentryGlas® ionoplast films
Acoustic: Trosifol® SC Monolayer and Multilayer PVB films for sound insulation
Trosifol® film for UV control: Trosifol® UV Extra Protect, Trosifol® Natural UV and SentryGlas® Natural UV – from complete UV protection to natural UV transmittance
Trosifol® UltraClear PVB film for the lowest yellowing value in the industry
Decorative & design: Black and white, color and printable interlayers
---
Copyright © 2020 Kuraray. All rights reserved.
Trosifol, Mowital, Butacite, SentryGlas, SG, SentryGlas Xtra, SGX, SentryGlas Acoustic, SGA and Spallshield are trademarks or registered trademarks of Kuraray Co., Ltd. or its affiliates. Trademarks may not be applied for or registered in all countries. The information provided herein corresponds to Kuraray's knowledge on the subject at the date of its publication. This information may be subject to revision as new knowledge and experience becomes available. The information provided falls within the normal range of product properties and relates only to the specific material designated; this data may not be valid for such material used in combination with any other materials or additives or in any process, unless expressly indicated otherwise. The data provided should not be used to establish specification limits or used alone as the basis of design; they are not intended to substitute for any testing you may need to conduct to determine for yourself the suitability of a specific material for your particular purposes. Final determination of suitability of any material or process and whether there is any infringement of patents is the sole responsibility of the user. Since Kuraray cannot anticipate all variations in actual end-use conditions, Kuraray makes no warranties and assumes no liability in connection with any use of this information.