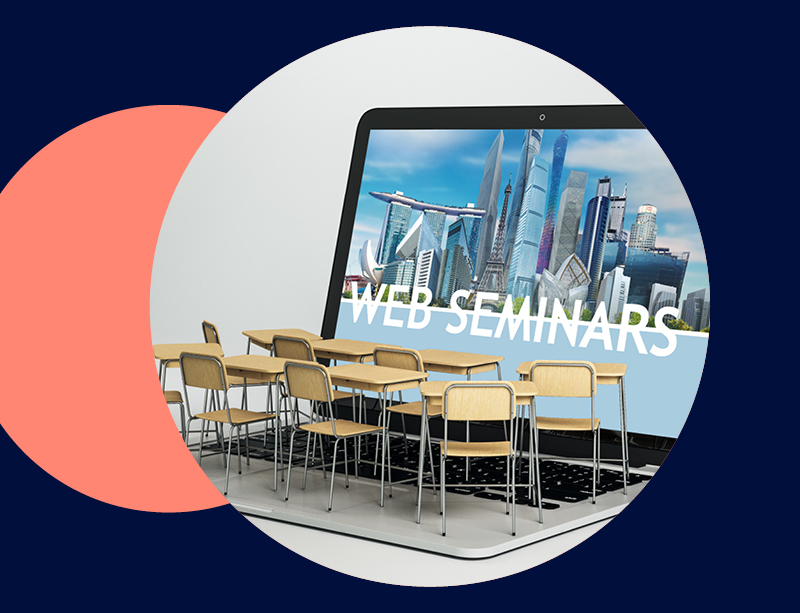 Up-to-date in 60 minutes
Keeping up with our customers' needs is our declared aim – not just during the coronavirus pandemic! It is a year since we launched our webinar series and the positive feedback from you, our customers, shows it was the right thing to do. You want full information on Kuraray's product portfolio, helpful hints on our solutions for many different applications, and direct interaction with our experts as well as help and support. The trend to digital tools is therefore spot on – for you and for us! Now you can look forward to our latest webinars on products and applications.
Kuraray Poval™ – a webinar every quarter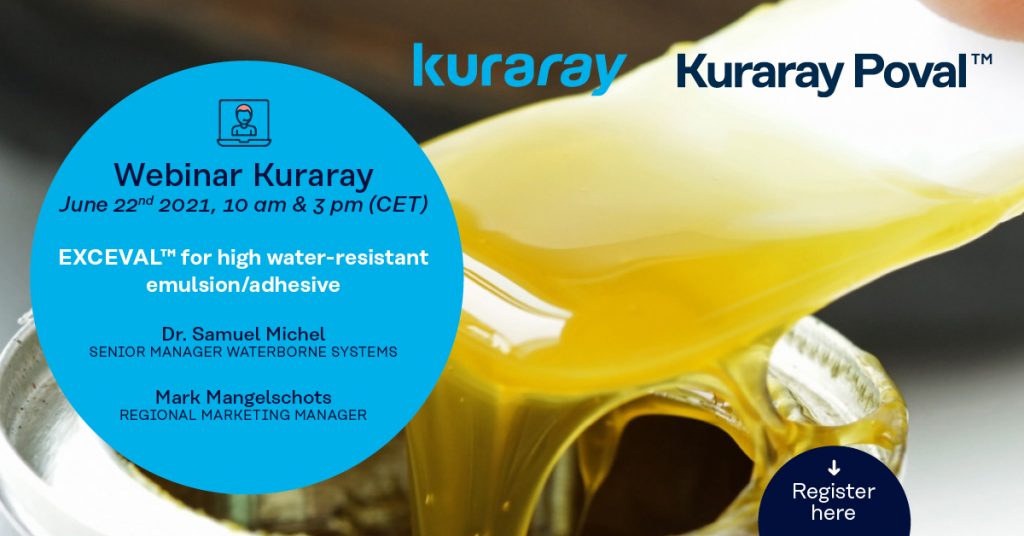 In June, Kuraray Poval™ once again focused on our innovative Exceval™ polyvinyl alcohols. These durable, high-performance PVOH products are particularly water-resistant so they are the ideal basis for improving your adhesives, coatings and packaging and making them more sustainable.
"Because of the pandemic, holding events and visiting customers are difficult at the moment," explains Heiko Mack, who is in charge of Kuraray Poval™ Marketing. "Our online format is a very good way of presenting the latest products and areas of application. They also enable us to respond directly to customers' questions."
Kuraray Poval™ webinars are held once a quarter, with one webinar in the morning and one in the afternoon to cover all time zones. As well as our staff in Europe, in future, colleagues from other regions (e.g., China, India, USA) will be presenting Kuraray Poval™ webinars. The aim is to make sure Kuraray Poval™ is aligned directly to users' needs. And if you miss a webinar, you can view the full content whenever it suits you personally. As well as a wide range of product solutions, Kuraray Poval™ therefore offers its customers flexibility.
Rising demand for sustainable, recyclable packaging has given rise to many new challenges for packaging materials. Barrier coatings play an important role in this sector. As a speciality chemicals company, Kuraray is a well-known expert in barrier materials and the world's leading innovative producer of polyvinyl alcohol. Therefore, customers in the packaging sector can learn about our attractive solutions for the challenges of paper and flexible barrier coatings in the cross-divisional webinar featuring Kuraray Poval™, Exceval™ and Eval™ EVOH – because Kuraray simply has more to offer!
---
Save the date so you don't miss out!
Elastomer Coffee Talks: round table discussions share practical knowledge
"Elastomer Coffee Talks are a completely new type of knowledge and networking platform," says Robin Conrad, Marketing & CRM at Kuraray in Europe. "In this year's four sessions, we will be showing customers from various sectors how they can use high-performance thermoplastic elastomers such as Septon™ and Hybrar™ to make their products better, more sustainable and more user-friendly."
For the next Elastic Coffee Talk, the division has chosen a really interesting topic: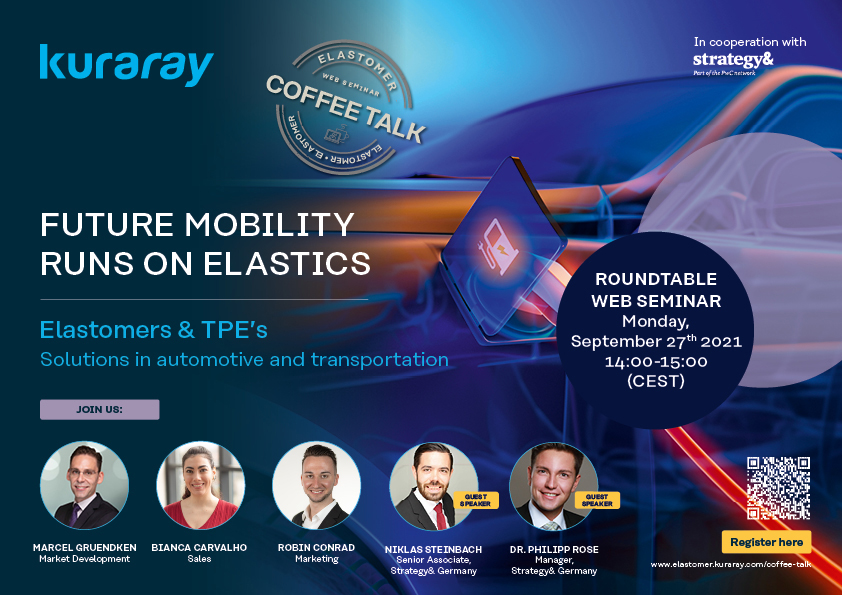 "Future mobility runs on elastics"
Mobility & Tyres – Elastomers & TPEs
Solutions in Automotive + Transport
Monday, September 27, 2021 – 2 pm (CET)
The guest speakers – Dr. Philipp Rose, Manager Automotive and Niklas Steinbach, Senior Associate Chemicals and Energy at PwC's global strategy consultant Strategy& – will be looking at why the trend here is moving clearly towards plastics. The speakers offer a combination of in-depth knowledge of the automotive industry and expertise in strategy, operations and digitalization. Up-to-date case studies and lively round table discussions will look at the demands made by automotive compounders, suppliers, OEMs and tyre producers.
So: grab a coffee, set aside 45 minutes and find out more!
---
Eval™ EVOH and Plantic™ – Spotlight on recycling and sustainability

Recycling and sustainability in the areas of paper and packaging are really "hot topics" for our customers. That was clear Eval Europe's first webinar on the circular economy on April 29: 700 people registered to take part. Demand for the recording was so high that the webinar was repeated in May.
The Plantic™ webinar on June 30 was equally popular. Kuraray's Plantic™ bioplastic offers a unique opportunity to make barrier packaging more effective and more sustainable. Plantic™ experts Didier Houssier, Market Development Director, Masahiro Kitamura, Technical Service and Market Development Manager, and Stefan Corbus, Market Development Engineer, outlined Kuraray and Eval Europe's approach to a sustainable circular economy for people, nature and our products: ReSource, ReDuce, ReCycle and ReDesign.
Plantic™, our high-performance film that is produced from up to 80 percent renewable raw materials, fits in excellently with this concept – and its excellent gas barrier properties enable customers to design packaging that keeps in aromas while keeping out oxygen. Plantic™ is produced from thermoplastic starch and is fully biodegradable, which greatly reduces its ecological footprint. The strength of Plantic™ comes into its own in mulitlayer packaging solutions that are suitable for composting, reprocessing and recycling. It's your choice!"
For us, it's clear that in the future webinars will be an important tool to enable us to directly address customers' questions," explains Didier Houssier. "Therefore, we asked our customers to suggest topics where they would particularly like to benefit from our knowledge and expertise."
Recycling flexible packaging and related solutions
EVOH tubes and EVOH as a substitute for aluminium
EVOH as a barrier material for plastic bottles/canisters
Recycling and durability of packaging and barrier packaging
EVOH as a functional barrier for the food industry
For more information about Plantic™ please contact stefan.corbus@kuraray.com
---
Folllow us onLinkedIn –
maybe there will soon be a webinar on your topic.