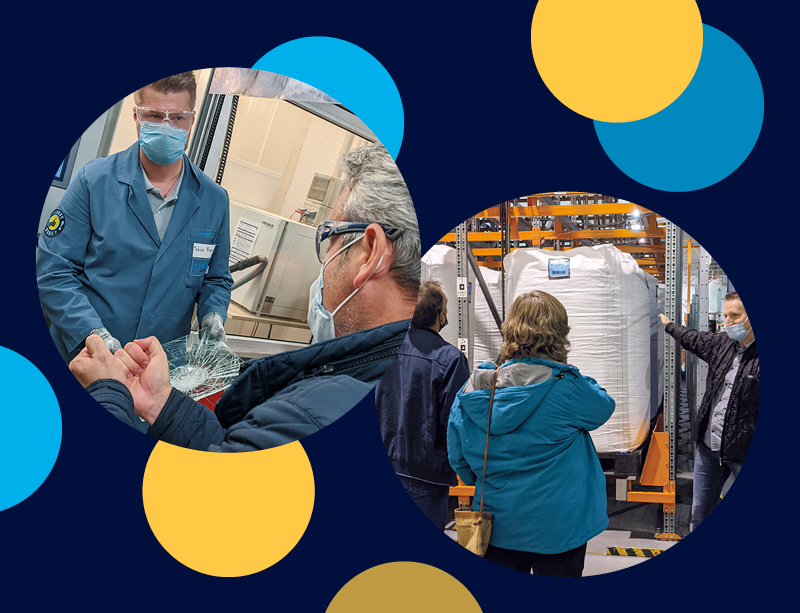 A look behind the scenes
How are films produced? What stops laminated safety glass shattering into thousands of tiny pieces? How does a fully automated warehouse work? Those are some of the interesting questions that were answered at our Troisdorf site during "Tech Night" in early October. Because good communication with the local community is important to us.
This was the second insight event organized by the Cologne branches of the German engineering and technology associations VDI and VDE. The motto was "Technology – Inspiration meets Fascination". This year Kuraray took advantage of this opportunity to open its site in Troisdorf to around 90 visitors.
Colleagues from Production and Research & Development took small groups of six on a tour of our premises. As well as the insight into film production, the automated warehouse and mechanical testing by Research and Development, a real highlight for many of the visitors was the dropping ball test, where a metal ball is dropped from a height of several metres onto a sheet of laminated safety glass.
We were delighted to be part of this year's event.

Claudia Roth, Human Resources
Together with Joana Swetik of Operations Europe Claudia Roth, Human Resources answered questions on career and training prospects. "Such events are important to show people from the local community what we do. At the same time, they are an opportunity to network with people interested in working for us."
---