Kuraray makes visiting the dentist more pleasant and ensures durable dental restorations that look natural
"A piece of grit in a salad or an unlucky fall and you can chip one of your front in a flash. Up to now, just one brief moment could lead to a whole series of visits to the dentist," says Dr. Carsten Barnowski, Head of Sales & Marketing DACH at Kuraray. "And everyone knows how unpleasant that can be. That's why we work very closely with dentists and dental technicians when developing dental products. Lasting dental restorations that look natural require a lot of experience and, above all, the right materials. Our dental restoration materials and PANAVIA™ cement are the ideal basis for that. What's more, they make treatment as short and pleasant as possible for the patient."
Less milling preserves more of the original tooth
In dental restoration work, it is often necessary to replace part of a tooth because the structure is damaged. KATANA™ Zirconia from Kuraray is a replacement material that offers patients key benefits – ranging from fine veneers for front teeth to full-contour prosthetics and partials. The material feels really natural in the mouth and its high strength makes it superior to glass ceramics. "Our KATANA™ Zirconia is used to create durable yet very thin prosthetics that are just 0.4 mm thick," says Dr. Adham Elsayed, Clinical and Scientific Marketing Manager DACH. "That's a lasting benefit for patients because less natural tooth has to be removed when preparing the tooth."
A new crown – with just one visit to the dentist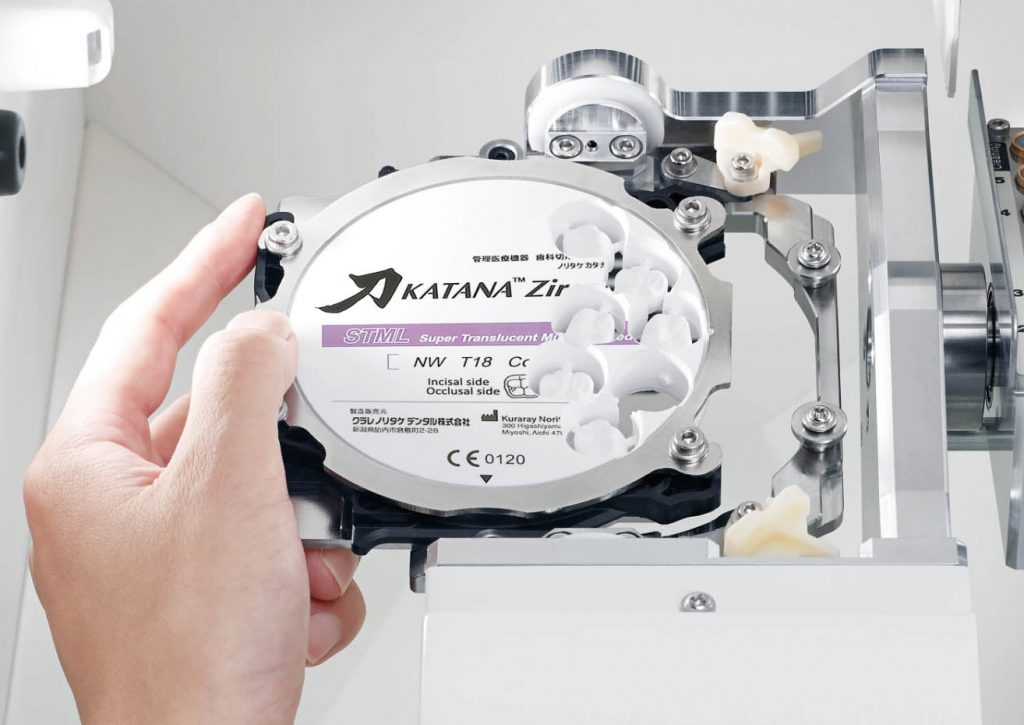 Another benefit: KATANA™ Zirconia speeds up treatment. With the aid of digital technologies, properly fitting crowns can now be produced in a matter of minutes. A scanner takes an exact image of the surface of the tooth being treated. A high-tech milling machine then produces an accurate prosthetic from KATANA™ Zirconia. This high-quality material from Kuraray looks natural immediately after milling. "A natural colour is integrated into our product. In many cases, further coloration is unnecessary. "The material is sintered for a few minutes. Including glazing, it takes around 45 minutes to produce a complete crown. That's far more convenient for patients because they only need one appointment."
KATANA™ Zirconia for healthy dental restorations that are lasting and look natural. This high-strength material allows the production of very thin crowns, so more of the original tooth is preserved. And it's similar to natural dentine, which is good for the teeth on the other jaw that come into contact with the crown with every bite.

Dr. Adham Elsayed, Clinical and Scientific Marketing Manager DACH
Panavia cement for good bonding in a short time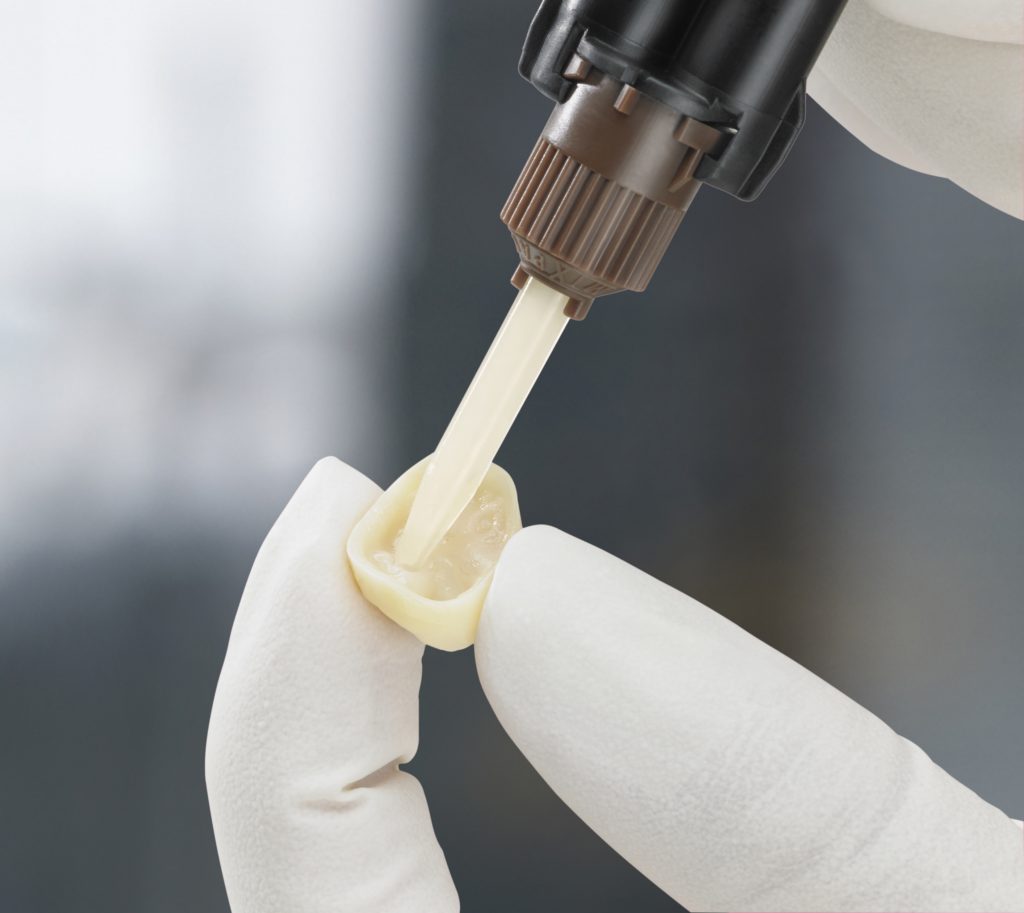 Kuraray also markets PANAVIA™ cement to make sure crowns are bonded durably and comfortably. With PANAVIA™, crowns made of zirconium and other materials such as ceramics, titanium and gold can be bonded firmly and durably to natural tooth enamel and dentine. "PANAVIA™ is quick and safe to use. Unlike conventional cements, our new PANAVIA™ SA Cement Universal doesn't require the addition of a primer," says Dr. Adham Elsayed. "That's practical for dentists and better for patients, because they don't have to keep their mouths open for so long while they're being treated." Another benefit: excess material can be removed easily without hurting the gum.
Aesthetic dental restorations that stay sharp
"Reliable and healthy teeth are important for our well-being. That's why we at Kuraray set very high standards for the quality of our dental products," says Dr. Adham Elsayed. "KATANA™ Zirconia for crowns and PANAVIA™ cement make sure patients can bite firmly after dental work, and the restoration work is durable and looks natural.
---