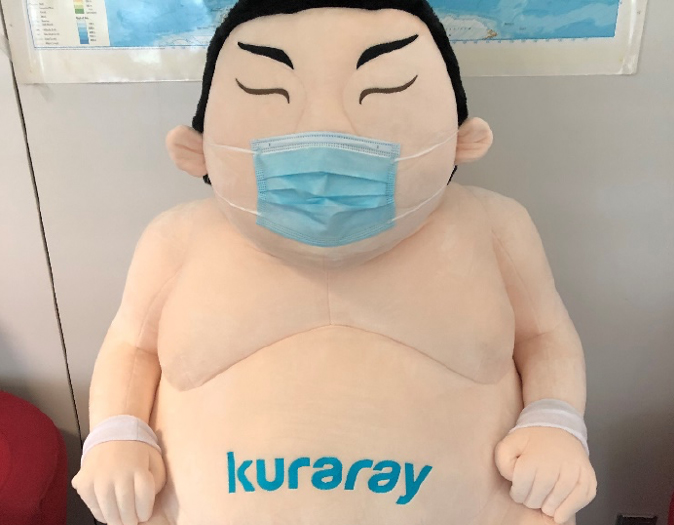 Helping to protect health
As well as being important to protect our health, face masks have increasingly become a symbol of the present pandemic. To help others and actively reach out to the community during the crisis, Kuraray and its employees have got involved in various ways: by donating KURAFLEX™ masks to children and protective clothing of the EVAL subsidiary in Belgium to local hospitals as well as making available a free design for 3D printing of straps to hold face masks in place.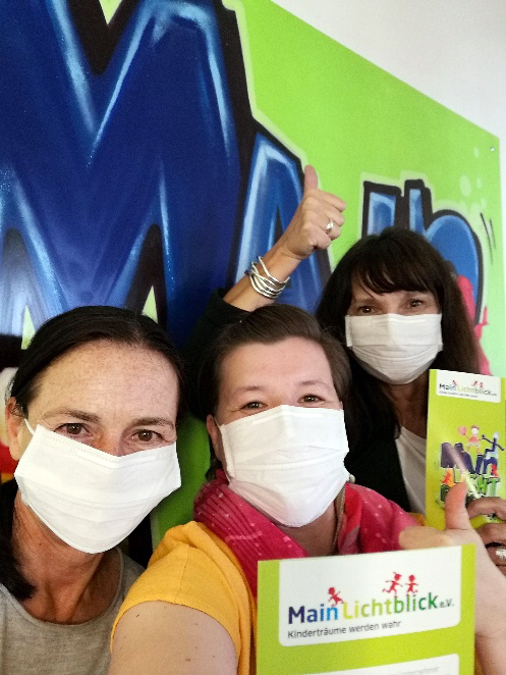 Kuraray's European headquarters in Hattersheim, Germany, received a gift of 800 face masks made of KURAFLEX™ nonwoven fabric from its parent company in Japan. KURAFLEX™ nonwovens are made from ultra-fine fibres using the latest melt-blown technology. They are used in industrial masks – to filter out dust and fine particulates – and are also suitable for face coverings worn in public places. "Our sites in Hattersheim and Troisdorf have supported children's organizations for many years so we decided to help them during the pandemic by donating the face masks to them," says Johanna Krauthauf, who is responsible for Communication and Organizational Development. "We're delighted that in this way we were able to support the Main Lichtblick charity in Hattersheim, which makes dreams come true for sick children, and the Heidepänz childcare facility in Troisdorf." Kuraray employees have close links with this childcare facility as they regularly help with renovations as part of the Malteser Social Day.
Creativity for a good cause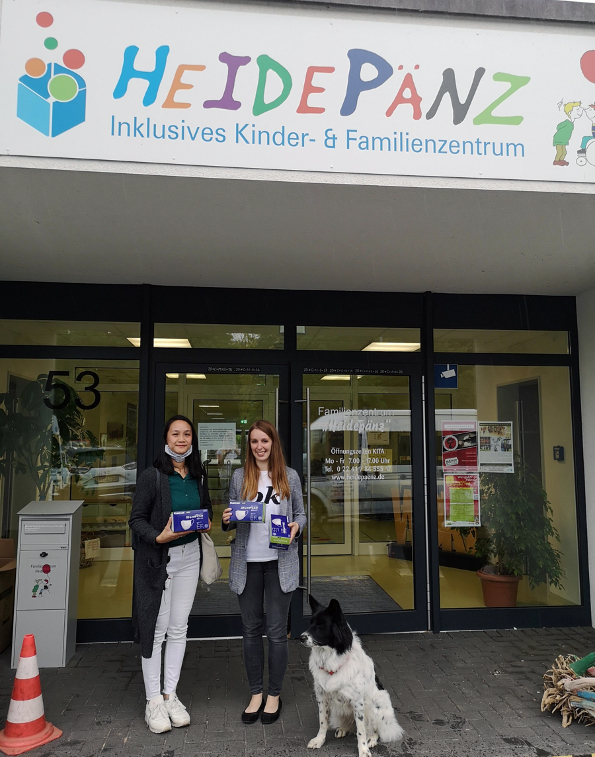 Robin Eschrich, who works in In-Process Measurement at Kuraray's Trosifol PVB film production facilities in Troisdorf, Germany, has also used his creativity and initiative to help others: "Like other 3D designers, I started thinking about what sort of things could help during the pandemic – even before face masks became obligatory," he says. "The first time I saw someone whose ears were being pulled forward by the elastic ear loops, I wanted to make something to help." That sparked the idea of offering a 3D printing design for a strap to hold face masks in place.
As an industrial engineer and plastics and rubber technician in Kuraray's Trosifol PVB business, Robin Eschrich has long been passionate about the possibilities of 3D printing, both professionally and in his private life: he comes up with ideas for protective covers and spare parts for the production facilities, which he then produces on his 3D printer at home. He is also involved in Kuraray's internal 3D Printing initiative and makes small, creative gifts for his friends. In film production at the Troisdorf site, he is responsible for in-process measuring technology, for example, automated technology to measure the thickness of rolls of film and surface inspection systems. His role also includes supporting the work of process engineers.
Robin Eschrich was not impressed by the designs for mask straps that he saw in the internet, nor was he convinced about their functionality. Therefore, he decided to develop his own design, which he has made available for others to use free of charge, for example via one of the biggest internet platforms for 3D printing designs (Thingiverse.com). Downloads from the platform's "HackThePandemic" section shot up to over 7,000 when masks became obligatory. Users now include some hospitals.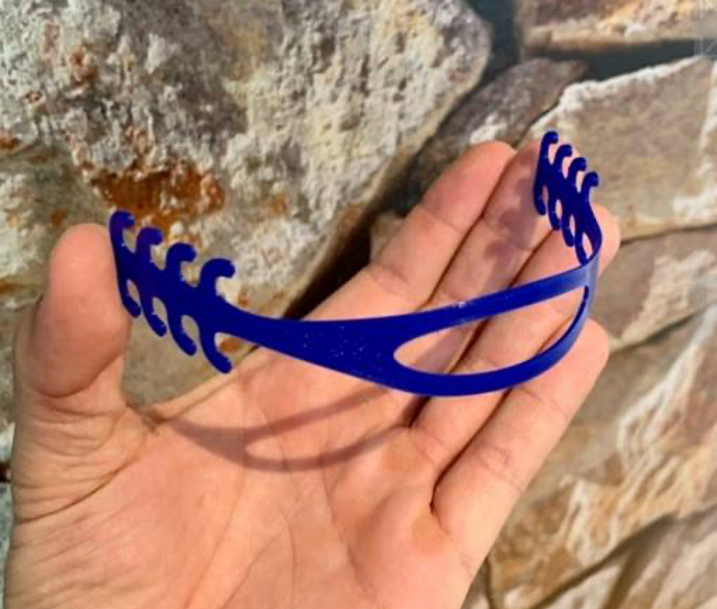 To improve functionality, the latest version features small hinges. These make sure that the counterpressure that holds the ear loops in place is distributed evenly along the strap instead of being concentrated at a single point at the back of the neck. For his colleagues, Robin Eschrich has even printed masks with the Kuraray logo. He is very pleased that his mask strap has proven so popular in the internet. He receives enthusiastic comments from users all over the world who have tried out the straps and distributed them to others. "It's great that my simple idea and these small straps are appreciated by so many people and that people are using them to help others," he says.