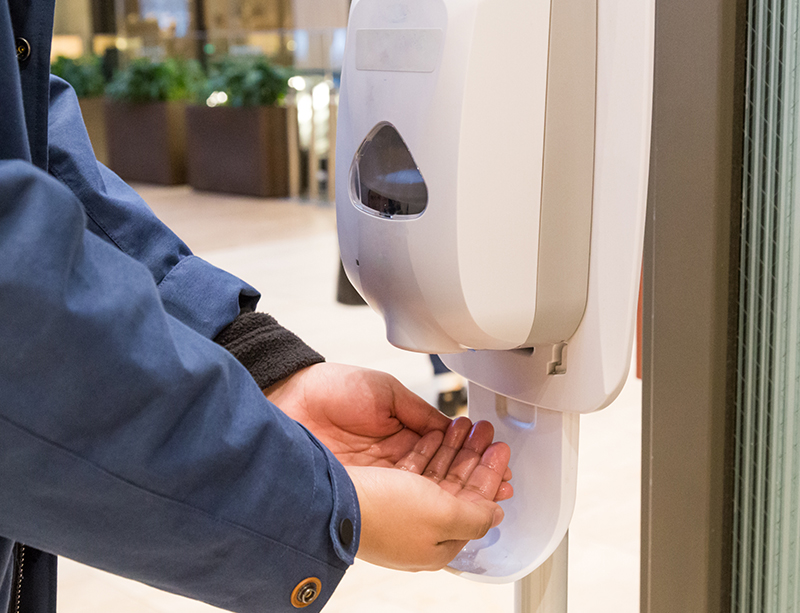 #togetherstrong
Disinfectants have become much-needed products during the Covid-19 pandemic. Employees at Kuraray's plants in Höchst Industrial Park near Frankfurt therefore took things into their own hands: so far, they have produced more than 40 litres of hand sanitizer and surface disinfectants. Moreover, adding isopentyldiol from Kuraray's product range makes the hand sanitizers particularly kind to the skin.
The pandemic has greatly increased cleaning and hygiene requirements around the world. At the start of March, it was clear to Carsten Moravek, ESHA officer, that even in the well-equipped POVAL plant stocks of disinfectant would run out at some time. "However, as a chemical plant, we naturally have the best basis for producing hand sanitizers and disinfectants ourselves," he says.
The formulation recommended by the WHO contains ethanol, glycerol and hydrogen peroxide (H2O2) – basic ingredients that quickly became hard to obtain at the start of the pandemic, pushing prices up sharply. However, that was only one reason why Kuraray started looking for alternatives for the hand sanitizers used on the company's premises: frequent use often caused dry skin. To prevent that, moisturizing agents are normally added to hand sanitizers. However, they can leave the hands feeling tacky.
A soft touch – isopentyldiol from Kuraray
An addition of isopentyldiol now makes sure Kuraray's own hand sanitizers keep the skin feeling soft and smooth. Isopentyldiol can be substituted for at least 50 percent or even all of the glycerol commonly used in such products, which is far less kind to the skin. Isopentyldiol has a rapid moisturizing effect, leaving the skin feeling silky smooth.
The hand sanitizer feels much more pleasant and is better for the skin. I clearly notice the moisturizing effect and don't have to apply hand cream after disinfecting my hands.

Michael Giebisch, Head of Operations PVA
---