Higher yields, longer shelf-life, less waste
Demand for food is growing rapidly. According to the Federal Ministry of Food and Agriculture, agricultural yields must be increased by up to two thirds over the next 30 years in order to meet global demand. Food is a valuable commodity. Nevertheless, the United Nations estimates that 1.3 billion tons of food are thrown away every year. High performance polymers already protect seeds in the field and help to improve crop yields. As packaging, they keep food such as, cheese and meat fresh for longer – and also improve food safety.
Kuraray markets high-performance plastics that improve the protection of food products. KURARAY POVAL™ polyvinyl alcohols, EXCEVAL™ water-soluble ethylene vinyl alcohol copolymers, EVAL™ barrier copolymers and Plantic™ biopolymers preserve flavour and protect food from pollutants and atmospheric oxygen. Their properties contribute to meeting long-term demand for food and also protect the environment.
Protecting seeds – for safe germination and higher yields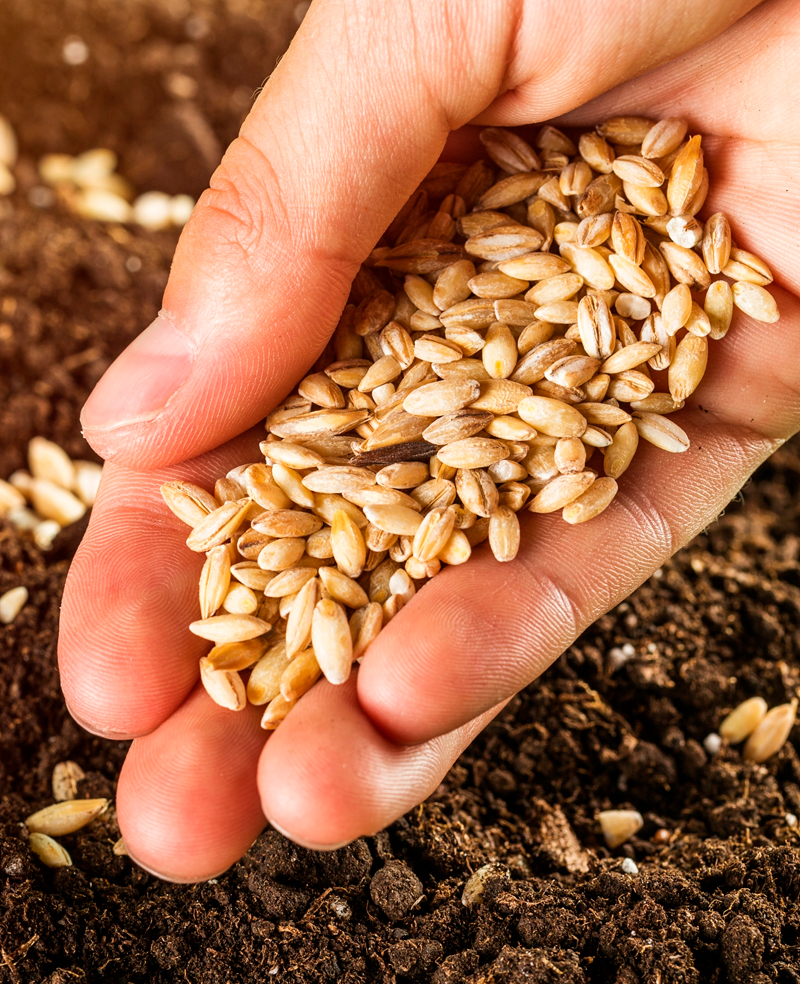 Climate conditions such as temperature and precipitation have a big influence on harvest yields of cereals, fruit and vegetables. Immediately after sowing, unfavourable environmental influences such as frost can greatly reduce harvest yields by damaging seeds and young plants. "Seeds coated with our polyvinyl alcohol (PVOH) resin KURARAY POVAL™ only germinate if the temperature and humidity are right," says Heiko Mack, Head of Poval Business Europe at Kuraray. "The seed is also protected from dust and damage. That improves the harvest." PVOH resin is water-soluble, biodegradable, and has no health risks, making it very suitable for use in agriculture. Fertilisers, insecticides and fungicides can also be coated with this material. That means they can be applied more precisely and economically in the field, resulting – in better germination and plant vitality.
But KURARAY POVAL cannot only protect seeds – learn more about other agricultural applications in the article "Healthier growth and better harvest" (Link to article)
Another method of keeping pests such as nematodes, bacteria and fungi away from plant roots is soil gassing. The area to be cultivated is covered with a film and special equipment is used to inject gas into the soil. "Even a thin layer of our copolymer EVAL™ significantly improves the gas retention capacity of the fumigation films," says Bledar Dukaj, Account Manager EVAL™ resins . "That significantly reduces emissions of chemicals into the environment." EVAL™ was the first barrier copolymer and remains the market leader. It can be processed as a barrier resin in co-extrusion or co-injection processes or as a monolayer film for lamination. In agriculture, using EVAL™ as a barrier film for silage allows permanent storage of animal feed. It is also used as a protective film for flax silos and grain sacks.
Protection against oxygen for longer-lasting freshness
"Oxygen triggers oxidation processes that affect their colour, consistency and taste. In addition, an acid-rich environment promotes the proliferation of microorganisms. The result is that food spoils more quickly," says Didier Houssier. "We therefore market barrier plastics that provide very good protection against gases such as atmospheric oxygen and keep them fresh for longer. They can be used for a wide variety of packaging types and processing methods, from film layering to retort packaging."
EVAL™'s excellent barrier properties also provide protection in food packaging. This product keeps out oxygen, ensuring optimum protection of the flavour. Even film layers made from this copolymer that only four micrometres thin prevent impurities such as mineral oils in recycled cartons penetrating the food and compromising food safety.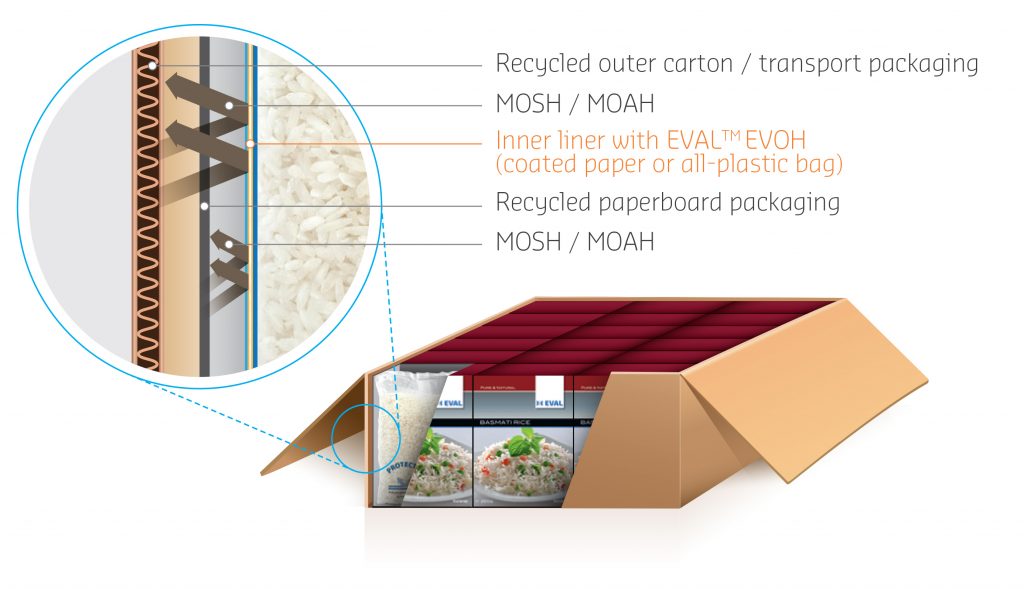 At K2019, we will be presenting the latest EVAL™ types with a low ethylene content. Read more about this in the article "K 2019: Sustainable materials for a greener future" (link to article) or visit us at K2019 in Hall 7a, Stand D06!
Aqueous barrier coating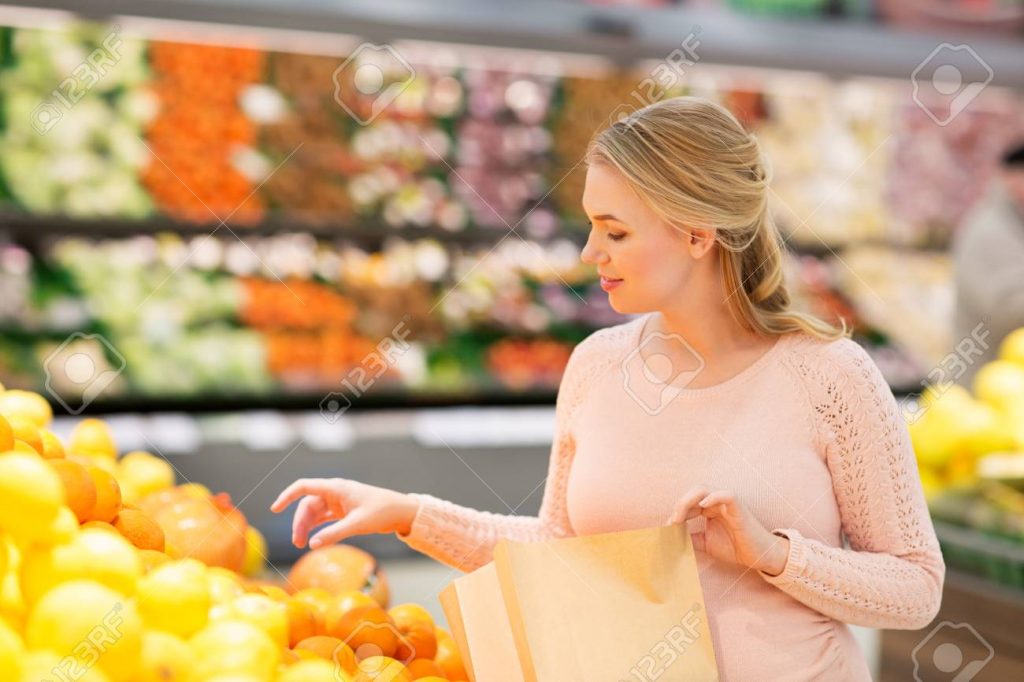 EVAL™ is normally processed by melt extrusion (e.g. co-extrusion) and Kuraray also offers EXCEVAL™ for aqueous solution coating. Such aqueous coating can be applied by printing process for example to add barrier function onto food packaging films. This polymer does not contain chlorine or solvents and is biodegradable in water. EXCEVAL™ can be used in combination with recyclable paper to produce environmentally friendly and sustainable alternatives to conventional packaging. It increases the functionality of paper. Moreover, coated paper containing up to 5% EXCEVAL™ can be disposed of simply via the paper recycling process. "In Europe, more than 70% of waste paper is currently recycled, compared with less than a third of plastic waste. One reason is that recycling paper waste is far easier, so economically it often makes more sense than recycling plastics," says Heiko Mack. "Paper packaging with a barrier coating looks set to become increasingly important in the future, especially in the food industry."
---
PLANTIC™ for sustainable food packaging
"As a leading speciality chemicals manufacturer, Kuraray regards sustainability as an important issue. One starting point for us is reducing packaging waste," says Stefan Corbus, Market development engineer. "Our renewable and biodegradable high gas barrier biopolymer PLANTIC™ is certified for industrial composting and home composting and is an alternative packaging material that helps improve the environmental footprint of food packaging."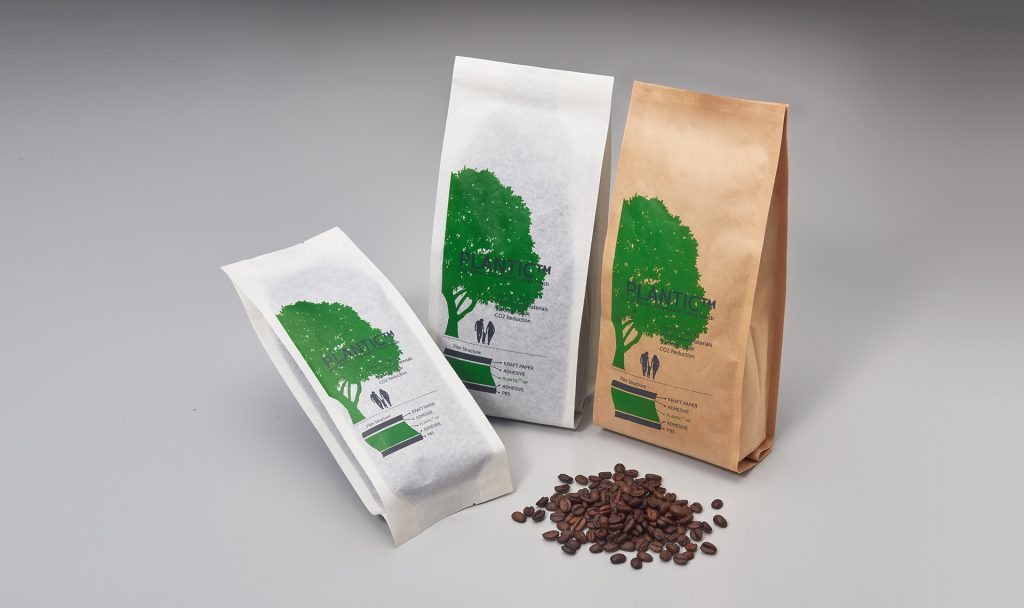 Up to 80 percent of PLANTIC™ biopolymer comprises renewable and is produced from high-amylose starch. "Our new PLANTIC™ CF high gas barrier sealant, which can be laminated onto other biodegradable films or paper, provides a completely biodegradable, or in case of paper, recyclable high gas barrier packaging," explains Stefan Corbus. ""Its high oxygen barrier properties make it ideal for packaging high value dry foods such as organic coffee, snacks or dry pet food.. PLANTIC™ is an alternative packaging material that supports sustainability." PLANTIC™ does not contain plasticisers, nor does it compete with food production. In addition, for this product Kuraray only uses raw materials which are not genetically modified.
"Our innovative materials make a decisive contribution to eco-friendly production of foods such as vegetables, cheese and meat and keep them fresh for longer. In this way, we increase yields and reduce food losses and waste," concludes Didier Houssier. "Both industry and consumers benefit from more environmentally friendly packaging, reduced use of pesticides and higher food safety throughout the process – from field to fork."
We are now also offering edible films. Usese include packaging for protein and meal replacement shakes, food colorants, spices cooking oils as well as pasta, rice, oats and flour. Read more about this in the article "K 2019: Sustainable materials for a greener future" (link to article) or visit us at K2019 in Hall 7a, Stand D06!
---