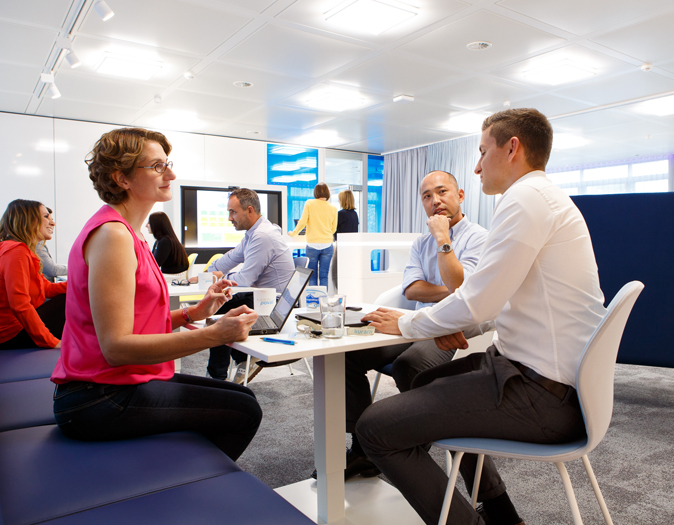 The direct way to experience product benefits
People at Kuraray are working on tomorrow's innovations. Products from this global specialty chemicals producer are found in many everyday products. However, they are often not visible at first sight. Anyone interesting in finding out more about the benefits of Kuraray's innovations needs to take a closer look –then it soon becomes clear how Kuraray's extensive range of high-performance materials helps improve people's daily lives. Kuraray recently opened new-style workplaces at its European headquarters in Hattersheim, Germany. Here visitors, customers, business partners and employees can get first-hand experience of the benefits of modern materials. Many Kuraray products play a part in creating an optimum working atmosphere.
For the past few months, people at Kuraray in Europe have been able to work in a new, state-of-the-art multifunctional environment on the ground floor of the company's headquarters in Hattersheim. Here, space has been created to encourage the development of ideas for the future. Everyone entering the appealing new reception area quickly realizes that people here are working on tomorrow's innovations. Visitors from all over the world are immersed directly into Kuraray's brand world in the showroom, the bright and airy lounge area, the Creative Lab and the co-working zones.
EVAL™ wallpaper in the recreation and kitchen area, flooring made of HYBRAR™ block copolymers, colored glass with Trosifol® interlayers, seats upholstered with KURALON™ fibers and the Clarino™ lounge bench – Kuraray is everywhere!
A hands-on experience – Specialty chemicals for a special space
KURALON™, the high-performance fiber made from polyvinyl alcohol (PVOH), turns a brief wait in the reception into a real pleasure. The stylish Swisspearl® designer chair invites people to rest in its curves. The material – a special blend of KURALON™ fibers, cement and pulp – is exceptionally tough and durable. At the same time, it offers exciting scope to design exclusive works of art. KURALON™ fiber cement scores highly in the new workspace at Kuraray's European headquarters because it looks great, feels good and adds a touch of comfort.
KURALON™ high-performance fiber is used in many industrial applications because of its unique properties. Thanks to its resistance, applications include flame retardant protective, as well as in the reinforcement of rubber (e.g. for automotive break hoses), the construction industry (cement, concrete), the reinforcement of plastics (e.g. for helmets) and specialty paper (packaging, soil liners, insulating paper, battery separators).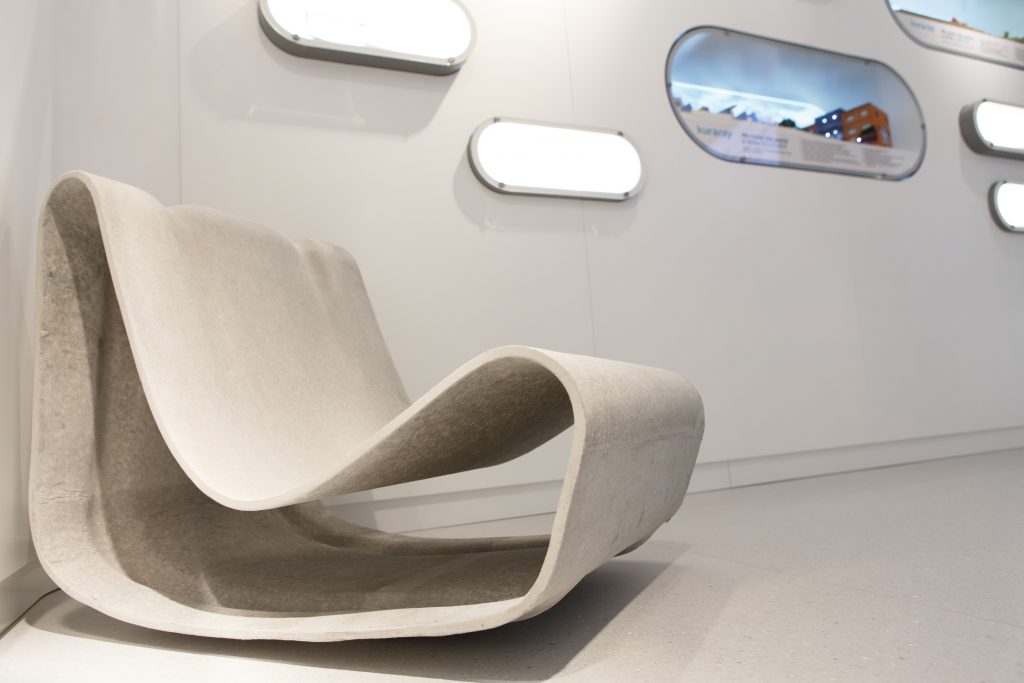 Clarino™, the exclusive alternative to leather, is highly durable, making it an excellent choice to withstand hours of meetings on the impressive lounge bench in the showroom. Upholstered in the world's finest specialty nonwoven fabric made from coated microfibers, the bench extends the full length of the room. Clarino™ products can be dyed in practically any shade. For the company's European headquarters a pleasant blue has been chosen to reflect the corporate design. Goods produced from the amaretta™, Tirrenina™, Clarino™ Suede and Clarino Crust™ collections, which are marketed under the Clarino™ brand, are used in many innovative applications: in clothing, accessories, bags, footwear, upholstery and the high-tech and electronics industries. Clarino™ products are manufactured without fluorinated hydrocarbons and do not contain any environmentally incompatible additives. "As one of the leading specialty chemicals producers, we have a special responsibility to pay attention to the environment," says Matthias Gutweiler. As Managing Director of Kuraray Europe, he is well aware that the chemical industry plays a central role in many value chains. Clarino Crust™ and Clarino™ Suede meet this high standard: Clarino Crust™ manmade leather is a water-based product manufactured without solvents. As an alternative to real leather, it does not use any products of animal origin. Clarino™ Suede is not simply a water-based product: it is one of the first microfibers in the world to be produced completely without organic solvents. In an effort to minimize environmental impact, Kuraray has managed to reduce water consumption in the production of this high-tech fabric by 70 percent and to cut CO2 emissions by 35 percent.
Trosifol® Color, the PVB design film for tinted laminated glass, gives the new design of the European headquarters an additional touch of color. The sky-blue doors to the inviting lounge area have a clear message: Welcome to Kuraray! Trosifol® PVB interlayers are sought-after high-performance materials used by architects and the automotive industry around the world. Trosifol® is used as a structural and functional interlayer in safety applications (examples are hurricane-proof glazing and glass structures), acoustic insulation and UV protection. For decorative applications, Trosifol® includes tinted interlayers, digitally printable films and other innovative products for interior design projects. Trosifol® products are perfect for applications that demonstrate strength, clarity and character. They offer progressive functions that help engineers, designers and architects save energy, enhance safety, and unleash greater creativity in design and construction.
EVAL™, the ethylene vinyl alcohol (EVOH) co-polymer that really does make more out of less, has an important function in the wallpaper in Kuraray's new workspaces. Combining attractiveness with functionality, the easy-to-clean wallpaper withstands dust, discoloration, friction and odors. That is practical in heavily used rooms and also makes a contribution to sustainable use of resources.
EVAL™ is also important in the food industry, where it is helping producers and retailers develop more efficient packaging. Barrier materials such as EVAL™ preserve flavor and protect food from atmospheric oxygen and contaminants. And that helps reduce food waste. At the same time, EVAL™ makes a contribution to cutting packaging waste and meeting the European Union's targets for sustainable packaging. EVAL™ Qualities with a low ethylene content can be easily recycled in "designed for recycling" structures consisting of compatible materials.
HYBRAR™, the triblock copolymer with outstanding vibration and shock absorption, is a key element in the flooring used in the new workspaces because it optimizes acoustics and reduces the sound of footsteps. Flooring based on HYBRAR™ is particularly suitable for the heavily used rooms at Kuraray's headquarters because it is extremely durable, retains its shape and elasticity and is almost completely abrasion-resistant. In addition, its very dense, closed surface without subsequent coating means it is easy to clean and has high resistance to moisture. Unlike conventional PVC, products made with HYBRAR™ do not need plasticizers. And that reduces the environmental impact of the production process. HYBRAR™ flooring is environmentally compatible and fully recyclable.
Just right for Kuraray's new workspaces! Thanks to its vibration-damping properties, HYBRAR™ from Kuraray is also an excellent choice for sports equipment, and for electronics, automotive and medical applications.
Flexible, networked, interactive
"Along with the latest media technology, the state-of-the-art Kuraray materials used in the new workspaces play a big part in making them not just rooms, but a platform that encourages networked thinking and action and releases creativity," says Carmen Mundt. Together with a team of committed colleagues, she was involved in designing the new-style working areas. In addition to the layout and technology, it was clear from the start that priority should be given to creating an atmosphere where staff and visitors feel at ease to make working effective and enjoyable. The concept is a big success: the new workspaces have been well used since they opened in September and booking lists for the various rooms are long. The light and appealing workspaces are popular with people looking quite place for short spontaneous meetings with individual colleagues, as well as for workshops with international colleagues and large townhall meetings.
---