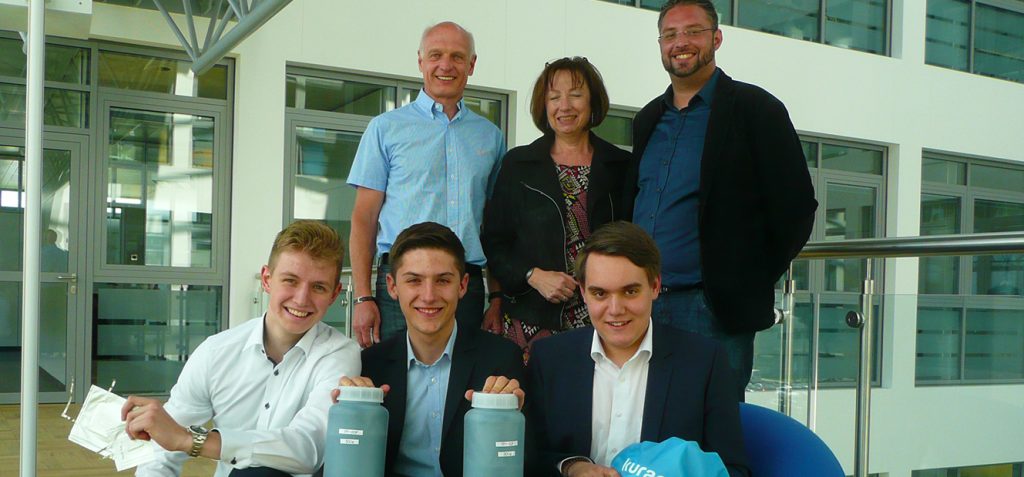 Young researchers develop "green e-bike"
The aim of the "Mobility" research group is to reduce CO2 emissions and produce even more environment-friendly drives for e-bike. Speciality chemicals producer Kuraray is happy to sponsor their endeavours to achieve their goals. The group's three young researchers – Sebastian Durchholz from Frankfurt, Tony Oehm from Lütau and Tom Hinzmann from Haßfurt – are working to make charging of e-bikes more efficient and to extend their range. They are developing super capacitors produced from organic waste such as tea, coffee grounds and apple peel.
"We are using super capacitors – also known as supercaps – for our e-bike project because they are far more environment-friendly and efficient than conventional rechargeable batteries. Their power density is between ten and a hundred times greater than rechargeable batteries so e-bike drives can be charged faster."

Sebastian Durchholz, Frankfurt.
Moreover, e-bikes powered by supercaps have a far greater range thanks to the activated carbon used for the electrodes. However, the findings do not satisfy Sebastian Durchholz and his fellow researchers, Tony Oehm from Lütau and Tom Hinzmann from Haßfurt. They want to find out whether supercaps can be charged even faster and more efficiently if the activated carbon used in them is sourced from recyclable materials such as tea, coffee and apples.
Dual climate protection thanks to supercaps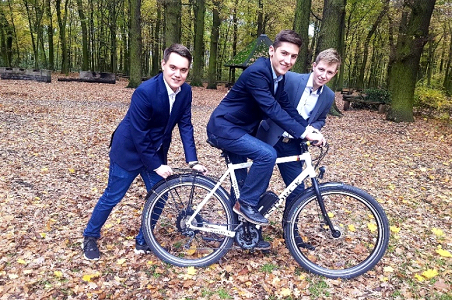 For the e-bike project, the young team tested ecocaps at Münster University's battery research centre. Ecocaps are special supercaps produced with activated carbon obtained from organic waste such as tea, coffee, apples and potato peel. That is an exciting approach for speciality chemicals expert Kuraray, which markets a recyclable product that could be used to produce supercaps: activated carbon made from coconut shells, which it is making available to the research trio. Sebastian Durchholz, Tom Hinzmann and Tony Oehm will be using activated carbon from coconut shells in future experiments and developments. "Supercaps emit far less CO2 during production than conventional batteries," explains Robert Fuss, Head of New Business Development PVB. "Therefore, Kuraray is happy to support the young researchers in the development of sustainable energy storage systems."
In addition to many benefits, the team's research has highlighted a key drawback of ecocaps: the low range of e-bikes powered by them. Now the three young men are continuing their research so that their results can be used for effective e-mobility.
A big step towards more sustainable e-mobility
Even without organic waste from coffee or apples, supercaps are an efficient and environment-friendly energy storage solution: they allow energy to be recovered while the e-bike is in use (recuperation). In this process, the e-bike's braking energy is recovered and stored. Conventional lithium ion batteries cannot process the large amounts of energy recovered within a short time. Therefore, the idea is to combine them with supercaps. The benefit of supercaps is that charging takes much less time. That means they absorb the recovered energy more efficiently than the cycle's lithium ion battery. Tom Hinzmann: "That protects the e-bike's battery. Normally, the battery has to be changed every two years. Combining batteries with supercaps gives them a far longer life."
Winners of the 'Jugend forscht' competition
In 2017, the research team came 1st in the physics category of the "Jugend forscht" competition for young scientists in the Frankfurt region and 3rd in the competition for the federal state of Hesse. "Jugend forscht" is Europe's biggest contest for young scientists. In addition, Tom Hinzmann, Tony Oehm and Sebastian Durchholz won a special prize for the project sponsored by Kuraray in the alternative and electric drives category. Together with their industrial sponsor Kuraray they are now working to get their ecocap technology ready for the market. Robert Fuss, Head of New Business Development PVB at Kuraray, sees enormous potential: "The research team's results are very promising. We are happy to continue supporting this highly environment-friendly e-bike project."